Back to all
News
ADFC presents updated cycle holiday planner
Wednesday, February 13, 2019
The German Cyclists' Association, ADFC, has published the latest version of its popular cycle holiday planner "Deutschland per Rad entdecken" (Discovering Germany by bike).
It contains a large number of long-distance cycle routes in Germany, including 18 of the ADFC Quality Routes ("ADFC-Qualitätsradrouten") and two ADFC Cycling Holiday Regions ("ADFC-RadReiseRegionen"). The printed version also contains a map on page 10 indicating the EuroVelo routes in Germany. With its nine EuroVelo routes, Germany represents a crossroads of the European network.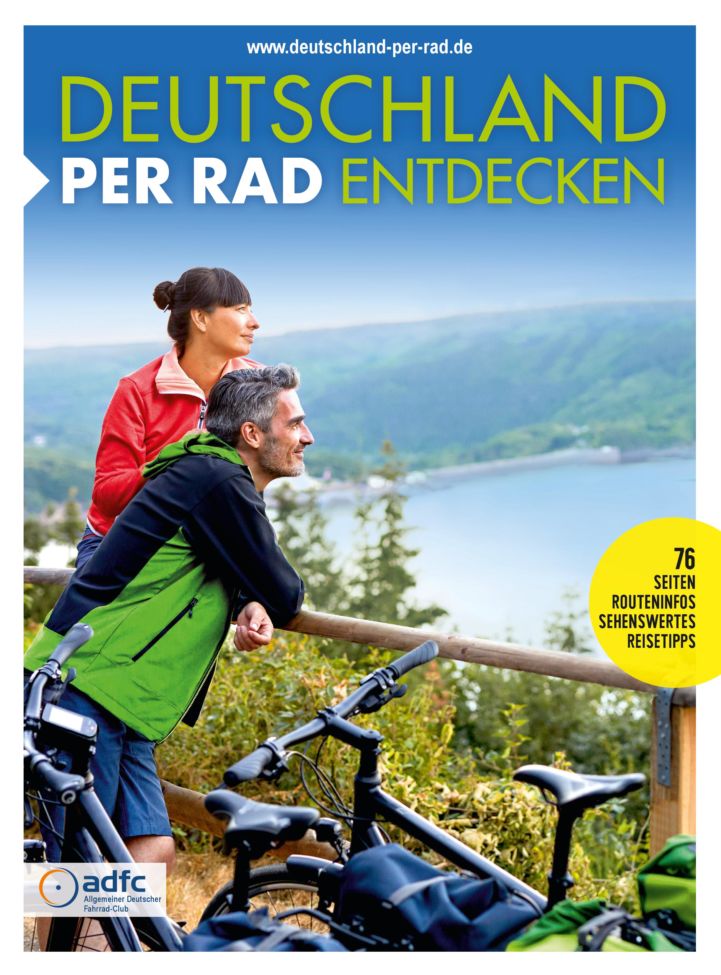 The guide is available as a printed version and online. The descriptions of the routes contain information on the route, planning tips and tourist highlights. Cyclists will also find culinary and other insider tips for the first time. As a novelty for this 12th edition, the ADFC is cooperating with the routing app komoot for the first time. The ADFC website integrates digital maps from komoot. Furthermore, users will be able to use the komoot app to navigate the cycle tour presented by the ADFC.
The printed version can also be ordered (shipping only in Germany) on www.deutschland-per-rad.de. This offer is supplemented by the ADFC's Bett + Bike website, a database of certified cycle-friendly accommodation that we also highly recommend. While this website is also available in English, the "deutschland-per-rad.de" page is only available in German. Non German-speakers can find additional information on cycle routes in Germany on the "Germany Travel" website of the German National Tourist Board.
In cooperation with the ADFC, EuroVelo will again organise the Cycling Tourism Day at the ITB Berlin, the world's leading travel trade show, on Friday, 8 March. You are all invited to visit us in Hall 4.1, booth 256!
Author(s): Ernst Fahrenkrug