Back to all
ES
Cycling tourism experts head to Barcelona as this booming sector changes the way we travel
Wednesday, September 22, 2021
Join us at the EuroVelo & Cycling Tourism Conference for engaging sessions, lots of networking opportunities and inspiring technical visits!
From the 5 to 7 October, professionals working on cycling tourism from across Europe will be heading to Barcelona for the fifth edition of the EuroVelo & Cycling Tourism Conference. The numbers of cycling tourists has increased dramatically over the past two years and this conference provides the first opportunity for those working in this field to come together in-person to share experiences and agree how to build on the current momentum.
What to expect from the leading cycling tourism event held in Europe?
An enticing programme of over twenty-five different speakers will cover a wide range of different projects, trends and good practices related to cycling tourism. The thread binding them all together is the increasingly important role played by cycling tourism in improving our societies.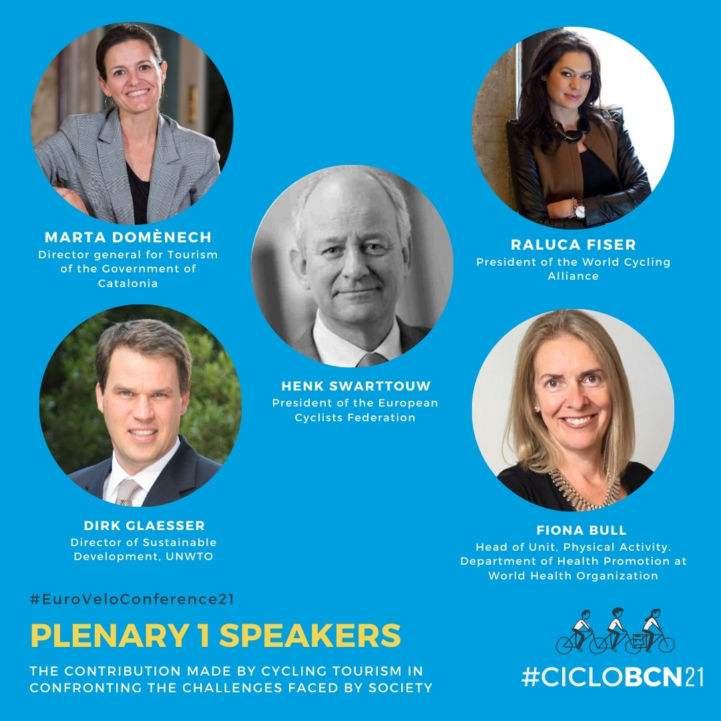 To offer just a taste of what is in store, the plenaries will cover: 'The contribution cycling tourism can make to coping with global challenges', 'The resilience capacity of cycling tourism destinations and 'The future of tourism'. They will feature high-level speakers, such as Dirk Glaesser, Director of Sustainable Development at UNWTO; Fiona Bull – Head of the Physical Activity Unit at WHO; Raluca Fiser – President of the World Cycling Alliance; Marta Domènech, General Director of Tourism for the Catalan Government; and tourism expert Nagore Espinosa.
Six parallel sessions will complete the formal programme. These will bring together presentations on a diverse range of topics, including promotion; and marketing, infrastructure, research and innovation; and economic recovery and quality employment.
As with previous editions of the conference, the formal presentations only make up part of the programme. There will also be plenty of opportunities to network with professionals involved in developing cycle route networks and the cycling tourism sector, including tourism officials, public authorities, public transport companies, tour operators, universities/academia, accommodation providers, user groups and many more.
On the evening of Tuesday 5 October the conference will begin with welcome drinks in the beautiful Maritime Museum. Following the conference programme, a conference dinner will be held in a glamorous restaurant located on Barcelona's beachfront. On Thursday 7 October, participants will get the chance to jump in the saddle and explore Barcelona and its surrounding area by bike on one of several technical visits. This will provide the opportunity to see first hand some of the recently installed EuroVelo 8 – Mediterranean Route signs!
At all times the organisers will be mindful of the updated health requirements and will take any necessary precautions, so that you can relax and enjoy the event.
The EuroVelo & Cycling Tourism Conference is the leading cycling tourism event held in Europe. Register here for engaging sessions, lots of networking opportunities and inspiring technical visits!