Back to all
NL
FR
BE
A beer and cheese-themed cycle tour along the Meuse
Wednesday, May 31, 2023
The three countries crossed by EuroVelo 19 - Meuse Cycle Route have something else in common than the Meuse River... an amazing tradition of beers and cheeses that is worth discovering while cycling there!
EuroVelo 19 is appealing to first-time cyclists as well as experienced riders who will enjoy the ever-changing landscapes and pretty villages on both river banks. First and foremost, it is particularly suitable for food lovers, who will enjoy many culinary delights from the start to the end of the route.
Indeed, France, Belgium and the Netherlands have much more in common than just being crossed by a major European river. These three countries are notably known for their unique know-how in the making of tasty cheese and brewing of traditional beers.
If you were not yet convinced by a cycling trip along EuroVelo 19 – Meuse Cycle Route, be sure to read further. You may end up being curious or… just very hungry and thirsty.
France
We begin our gastronomic trip at the source of the Meuse in Langres, France. To build up stamina, you might want to start with a tasting of Langres cheese, a strongly flavoured and creamy cheese characterised by its washed rind. This creamy cheese is matured according to a traditional method of successive washings. It is protected by the label 'Appellation d'Origine Protégée' (Protected Designation of Origin), guaranteeing its quality.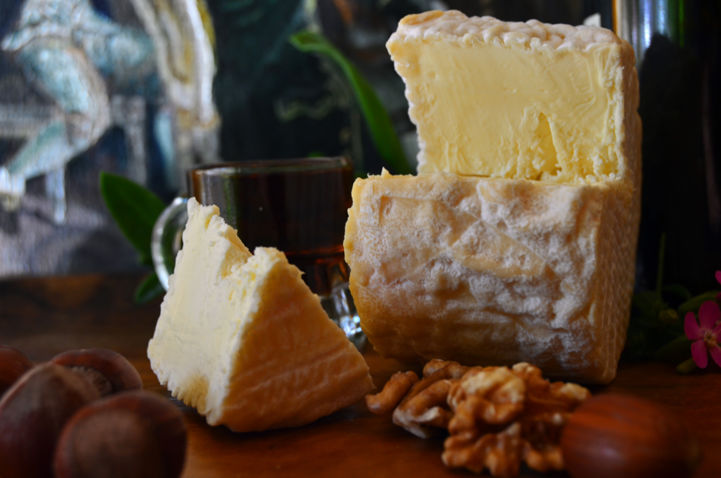 After this first tasty stop, you can hop on your bike to learn more about the rich history of the Vosges region, passing by the unique city of Neufchâteau and the birth house of Joan of Arc. Entering the Meuse French department, you will cross Verdun and its famous battlefields. Some kilometres later, do not miss the Beer Museum (Musée de la Bière) in Stenay to take a look at the impressive collection of more than 53,000 items displayed there and get inspired for your next well-earned break.
Indeed, get ready as you are about to enter the Ardennes Massif, which is sure to offer a feast for the senses.
If you are crossing Charleville-Mézières in May, discover the "Festival des Confréries", an incredible food festival dedicated to the Ardennes' terroir. Each year, it gathers more than fifty French and Belgian gourmet brotherhoods and thousands of spectators. It is a golden opportunity to wander from food stall to food stall and taste a variety of specialities brought by skilled brotherhoods.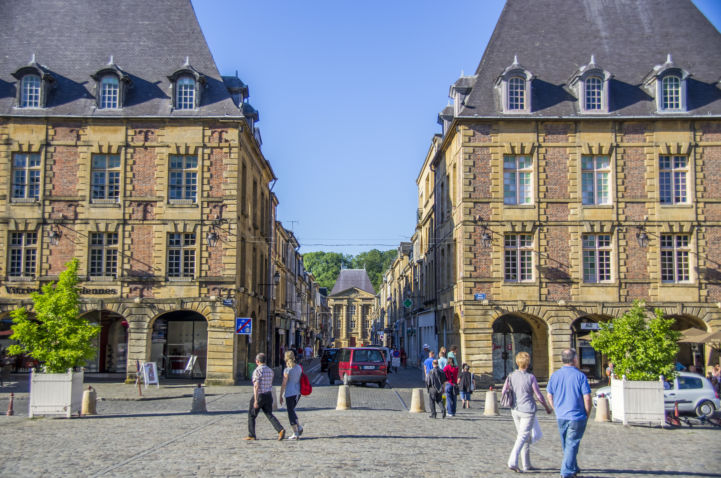 If you are travelling another time of the year, rest assured you will still have plenty of occasions to try the famous cheeses and beers of the region. When passing by Revin, make sure to try Rocroy cheese before making haste to La Brasserie d'Aubrives, a microbrewery project with an escape room – even that activity is dedicated to beer!
Without even noticing it, you will be crossing the border in the Ardennes. Get ready to discover the culinary wonders of Belgium!
Belgium
Belgium is known to be a paradise for beer lovers, but it is also home to many savoury cheeses… washed down with beer! Chimay is a worldwide famous example of this kind, as it is an authentic Trappist beer AND a cheese. The monks of the Abbey of Scourmont produced their first beer following monastic traditions of brewing in 1862 and, a few years later, their very own first cheese. You will find Chimay cheese and beer almost everywhere in the region – a perfect option for a picnic!
EuroVelo 19 follows the meanders of the Meuse when entering Belgium and is overlooked by a series of cliffs and citadels. A highlight of your cycling journey will be when you arrive in Dinant, a splendid town with a mighty citadel enthroned in cliffs high above. Take a moment to enjoy a hoppy Ciney beer, brewed only a few kilometres away, on a sunny terrace before hopping back on your bike.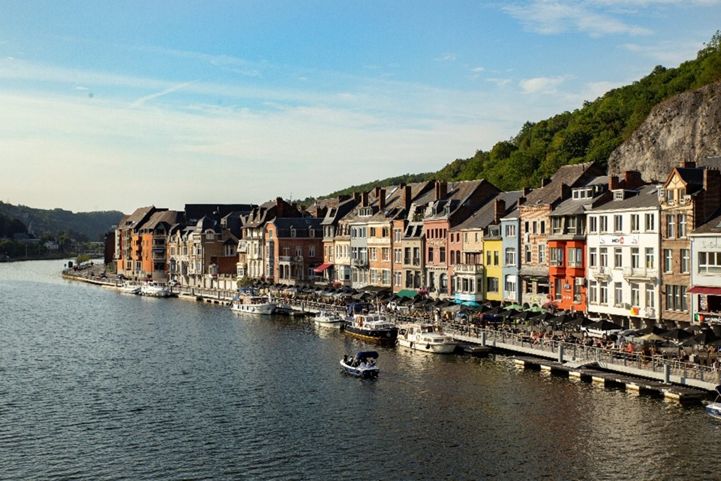 The next day, after reaching Anhee, make a quick detour of 10 kilometres along a Ravel (a Belgium Greenway) to visit the Maredsous Abbey, founded in 1872 by the Benedictine monks in the Molignée Valley. It is worth a visit for its neogothic architecture, but the cheese and beer tasting will definitely persuade you to stop by. Indeed, the delicious Maredsous cheese is still matured in the caves, which harbour a typical flora giving the cheese its unique taste and creaminess. Similarly, Maredsous beer is also matured in caves for two months before being sold.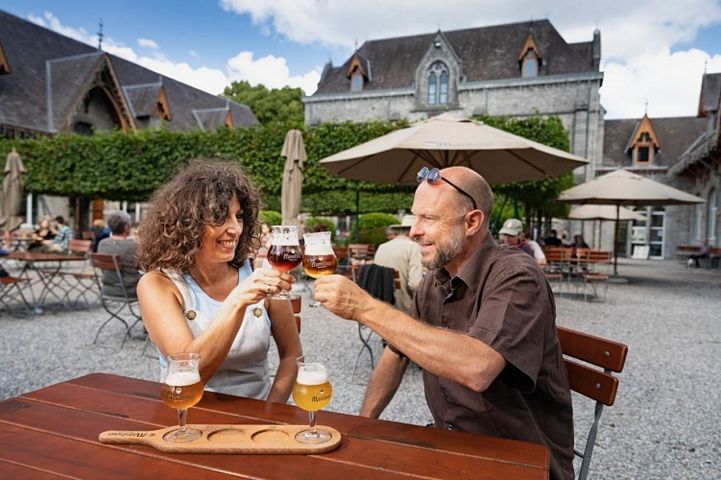 Another famous beer in Belgium is awaiting you in Namur, as the city is very close to the monastery of Abbaye Notre Dame de St. Remy – known for brewing the Trappist Rochefort ales. Which is going to be your favourite – 6, 8 or 10?
The next section leads you to Liege, Wallonia's largest city, where you must try Herve cheese with Liège syrup – molasses obtained by cooking and reducing apple and/or pear juice. The square-shaped Herve cheese is a true delight associated with the sweetness of the Liège syrup. You can also find Remoudou cheese, another type of Herve and a typical farmhouse cheese from the Middle Ages, which was formerly made with reprocessed milk (second milking), in Walloon 'rimoude'.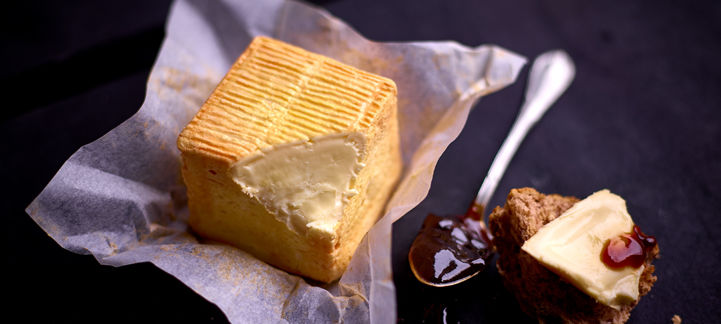 The Netherlands
We are now reaching the last step of this cycling-gastronomic journey, as it is now time to discover the Dutch specialities.
As you make your first stop along EuroVelo 19 in the Netherlands in the lively university city of Maastricht, you might come across a certain number of bottles of Heineken. Indeed, Heineken became a heavy hitter in the Dutch beer market after World War II as they started buying smaller, existing breweries at that time. This meant, however, that small breweries started to disappear. Fortunately, locally crafted beers gained back popularity in the 2000s, causing the number of beer brands and breweries to grow. In 2019, there were over 600 breweries in the Netherlands.
In Maastricht, you can visit the Bosch Brewery and discover historic and authentic brewing equipment, as beer production stopped there in the 1970s.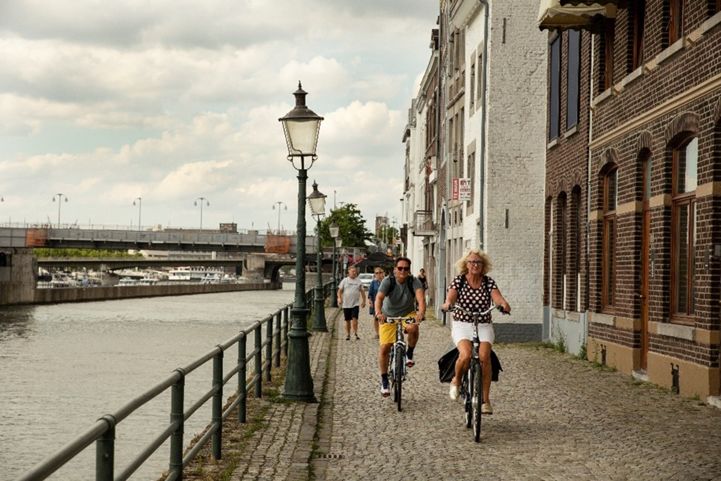 As you keep cycling north, when reaching 's-Hertogenbosch, you can make a detour to visit the Brouwerij de Koningshoeve, where the Trappist beer La Trappe is produced in the abbey of Berkel-Enschot.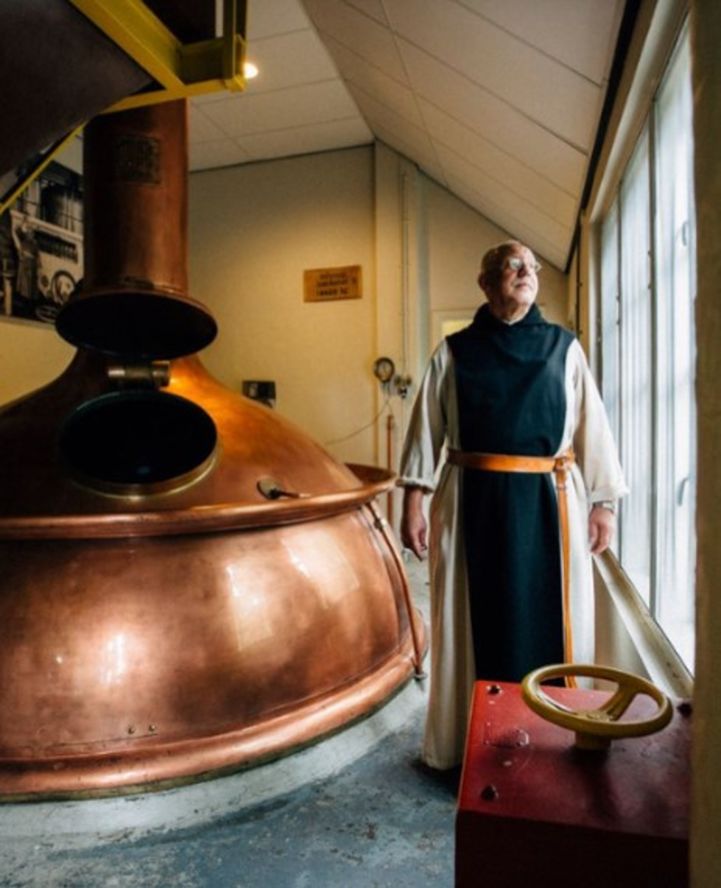 We should not forget about the delicious Dutch cheeses like Edam, Gouda, Maasdam, Leyden (flavoured with cumin and caraway seeds), Mimolette (famous for its nut taste) or the well-loved and trademarked Leerdammer. The latter one, a semi-hard cheese, founds its origins in the city of Leerdam, just a few kilometres away from EuroVelo 19.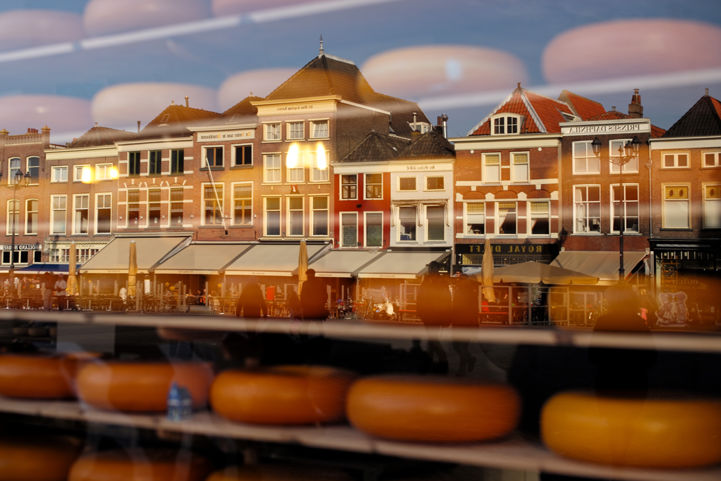 Before reaching Dordrecht, visit the Booij family, specialised in artisanal cheese, at their farm in Streefkerk. You can even make your own cheese and take it home to mature, a quite unusual but tasty souvenir! However, it may not be a great idea if you are on a long-distance cycle trip…
If this article has made your mouth water, we can only advise you to head along this 1,050-kilometre cycling route. Cycling is also the perfect excuse to taste lots of beers and cheeses across the three countries, as you will need some extra energy to keep going. However, please remember that cycling when you had a beer too many is not a smart idea. A tasty pint as a reward at the end of a day spent on the bike is much more encouraged. So, say "cheese!" and cheers, santé, proost!
Cover picture: Neufchâteau, France
Author: Alexandra Fournier