Back
Practical Information and FAQ
This website provides information and ideas relating to each of the EuroVelo routes, including route overview and summaries of the sections through each country. It also provides practical information for cycling holidays in every country in Europe. The website is constantly being updated enabling you to access the latest news related to each route. There are also direct links to the best sources of detailed information at a national level.
Definitions
We aim to have the entire EuroVelo network completed by 2020 but not all sections are ready just yet. We have therefore tried to show on the maps on this website the conditions that you are likely to experience when out and about. Three different categories have been used and are shown on the maps on this website and the mobile application*: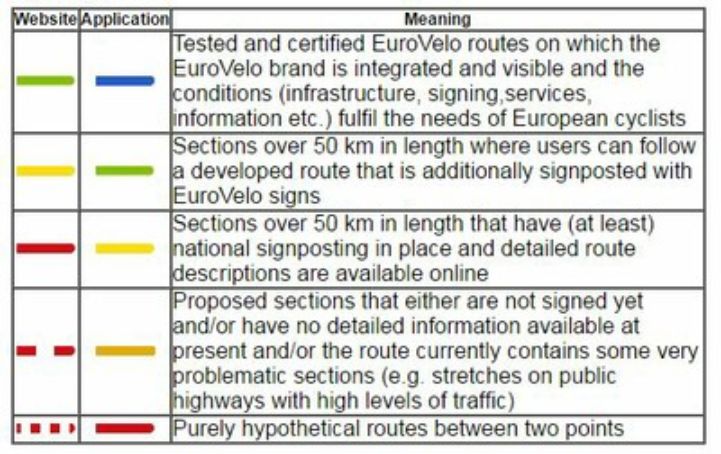 We are currently on a transition period in which the route categories may differ from the online map, new paper map and the app.
In general we advise you to use touring or trekking bikes for all kind of routes. Because even realised sections for instance can cross environmental protected areas, which are unsuitable for road bikes. Of course, our network of National EuroVelo Coordination Centres and Coordinators are working on improvements all the time, so you may now find that signage has been installed along certain sections; information is available online or solutions have been found to the problematic sections. Keep checking this website for the latest situation along each route.
More information on the categories of EuroVelo routes here.
Follow the EuroVelo signs!
In more and more locations around the European cycle route network, official EuroVelo signage is being installed to make your journey even easier. Just look out for the distinctive EuroVelo signs, which can be incorporated in several different ways (see examples). You can now follow the EuroVelo signs in parts of Austria, France, Hungary, Slovakia, Switzerland and the UK to name just some of the countries that have introduced them.
Frequently asked questions
What is the best route for me?
EuroVelo offers a wide variety of routes for all types of cyclists. Whether for a day out or a 3-month expedition, our routes page will help you find the perfect trip.
I'd like to try a long-distance, self-supported tour for the first time.
Our most complete route to date, with full signposting between France and Serbia, and with detailed mapping available throughout, EuroVelo 6 – from the Atlantic to the Black Sea is the perfect choice for a first long-distance tour. Passing through 10 countries over its 4,448 km (2,764 mile) length, the route follows three of Europe's major rivers – the Loire, the Rhine and the Danube. This naturally flat topography, combined with the highest quality cycling infrastructure ensures a safe and pleasant ride.
I'm interested in Europe's history.
Many EuroVelo routes incorporate a historical theme – EuroVelo routes 3 and 5 follow ancient pilgrims' trails and EuroVelo 2 links some of Europe's great capital cities. For the most poignant reminder of Europe's recent history we recommend following EuroVelo 13 - the Iron Curtain Trail, along the border which divided the continent between East and West for half a century. EuroVelo 13 is also the longest trans-Europe route, at 10,400 km (6,462 miles).
I'm travelling with my family.
If you're travelling with young kids then look no further than EuroVelo 15 – the Rhine route. At 1,320 km (820) miles, the entire route is very manageable in a month-long summer holiday. In this time you'll follow the Rhine through four countries from source to sea, taking in some magnificent scenery on the way. The route is the first to be awarded the European Route Certification Standard, ensuring an exemplary level of infrastructure throughout.
Where can I find out what parts of the network are complete?
In many cases substantial sections of EuroVelo routes are already complete and signposted, but gaps in high-quality infrastructure still exist. Our website http://www.eurovelo.com/en/eurovelos provides a colour-coded overview of each route itinerary. Green (realised) sections are cycle routes with signposting in both directions. Yellow (not realised) sections are undergoing work to meet EuroVelo standards but follow existing cycle infrastructure. Red (planned) sections are still in the route planning phase.
Where can I find maps and guidebooks?
You can request the EuroVelo network map and the EuroVelo 15 - Rhine Route manual to be sent to you by mail with a donation.
Maps are currently available from many online sources including Amazon, Sustrans, Fietsvakantiewinkel, Adfc and France Velo Tourisme
An overview map of EuroVelo routes and a EuroVelo 15 - Rhine Rounte manual are available online or in paper form by contacting your National Coordinator.
Who came up with the idea of EuroVelo?
EuroVelo was first conceived at a meeting between the ECF and its British and Danish partners (Sustrans and de Frie Fugle) in 1995. The original plan was to create 12 long-distance cycle routes. Since August 2007, the ECF has assumed full responsibility for coordination of the project, leading to greater international recognition of the value of these routes. You can learn more about its history here.
Why is there no EuroVelo 14 and 16?
Routes are numbered based on whether they cross Europe on a North-South or an East-West axis. Currently there are eight North-South routes (odd numbers 1-17) and six East – West routes (including two circuits) (even numbers 2-12).
Is it possible to add additional routes?
Yes, we accept applications to create new EuroVelo routes, or modify existing itineraries in a three-year cycle. The next deadline for new route applications will be the 31st December 2019. A detailed explanation of the route application process can be found here:http://www.eurovelo.org/routes/newroutes/
Can EuroVelo sponsor my cycling trip or charity fundraising ride?
The ECF is a not-for-profit organisation and cannot make financial contributions to rides using the EuroVelo network. However we love to hear news of inspiring journeys and can use our social media networks to spread these stories throughout the cycling community.
Where can I read accounts of people who have cycled the routes?
There is an endless selection of blogs available online by cyclists who have taken on the EuroVelo routes. A good idea is to check out #EuroVelo on twitter and facebook to hear what bloggers are saying about their rides. We also feature these cyclists in regular articles for eurovelo.com.