Back to all
Florence's insider tips: EuroVelo 15 – Rhine Cycle Route between mountains and lakes, along canals and cathedrals
Monday, August 26, 2019
This summer, three members of the ECF EuroVelo team have been cycling on EuroVelo 15 – Rhine Cycle Route and each has an article for you! This month, we start at the source of the Rhine, cycling towards the North of Alsace with Florence, the EuroVelo team's Communication Assistant.
My cycle journey began in Andermatt, a mountain village situated in the Swiss Alps close to the source of the Rhine. But first, let us go back a few hours in time, to when I first set foot on Swiss soil. After a night spent in a Flixbus from Brussels to Bern, tired-looking and in probable need of a shower, I nevertheless got a very warm welcome in the first Swiss café I entered at around 6:30 in the morning. I didn't have any Swiss Francs yet and ordered a cappuccino before seeing that the café did not allow payment by card... Giving up on this warm treat, I went outside to prepare my bike. But a few seconds later the waitress came out with a free cappuccino for me! This perfectly presaged my time in this beautiful country.
I then got to Andermatt by taking the amazing train line "Glacier Express". The Glacier Express train journey is a great gateway to EuroVelo 15, as it brings you (and many well-equipped fellow cyclists and hikers, of which the train was quite full) straight up across gorgeous landscapes in the Alpine mountains. Needless to say, almost all Swiss trains accept bicycles for a fair price (you can buy a 'bicycle ticket' at the ticket machine in any train station), staff and other passengers are generally very helpful to guide you to the bicycle wagons (recognisable by their bike pictogram) and there are no steps to enter the wagons – a valuable asset if you travel with a heavy-loaded bike!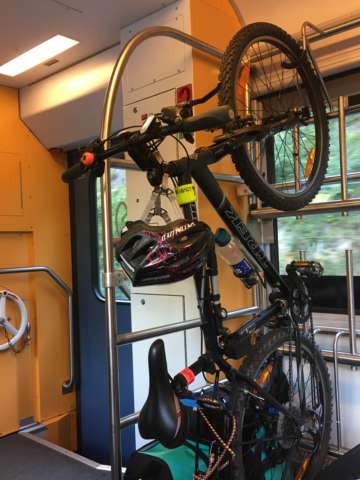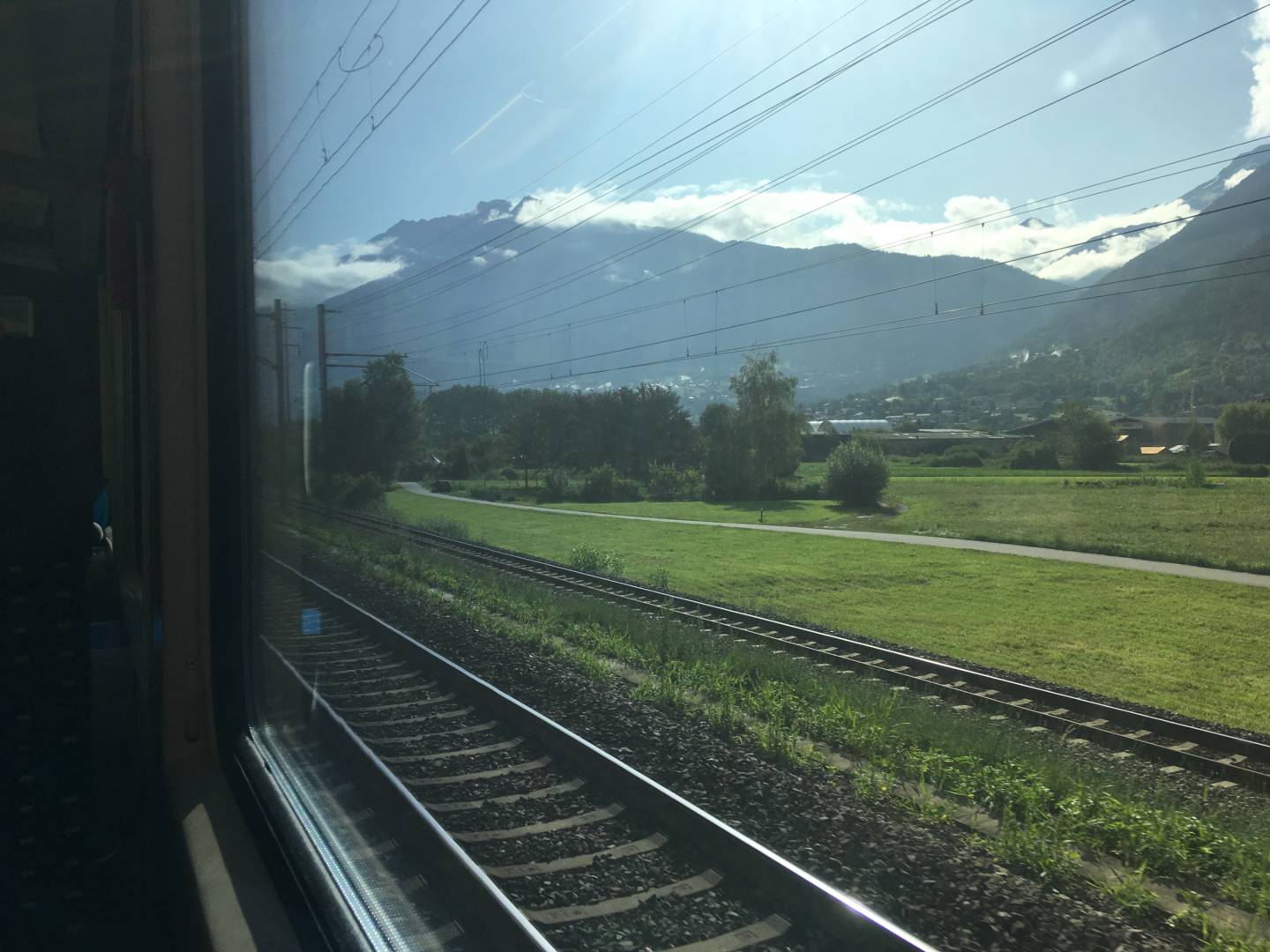 The first 10km of the Rhine Cycle Route climbs the Oberalp Pass, situated at an elevation of more than 2,000m. But the scenery certainly outruns the effort, as you reach this pass among snow-capped summits, gorgeous views on valleys lost in the clouds and soothing cowbells' music! Still, do not plan to do too many kilometres in the first days, unless you are in a hurry and an experienced cyclist. Give your body some time to get used to your loaded bike and enjoy the beauty and serenity of this region. You might also want to do frequent pictures stops! There is also a funicular train option if you do not fancy this first climb.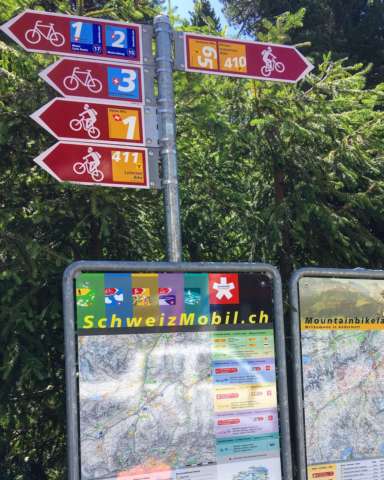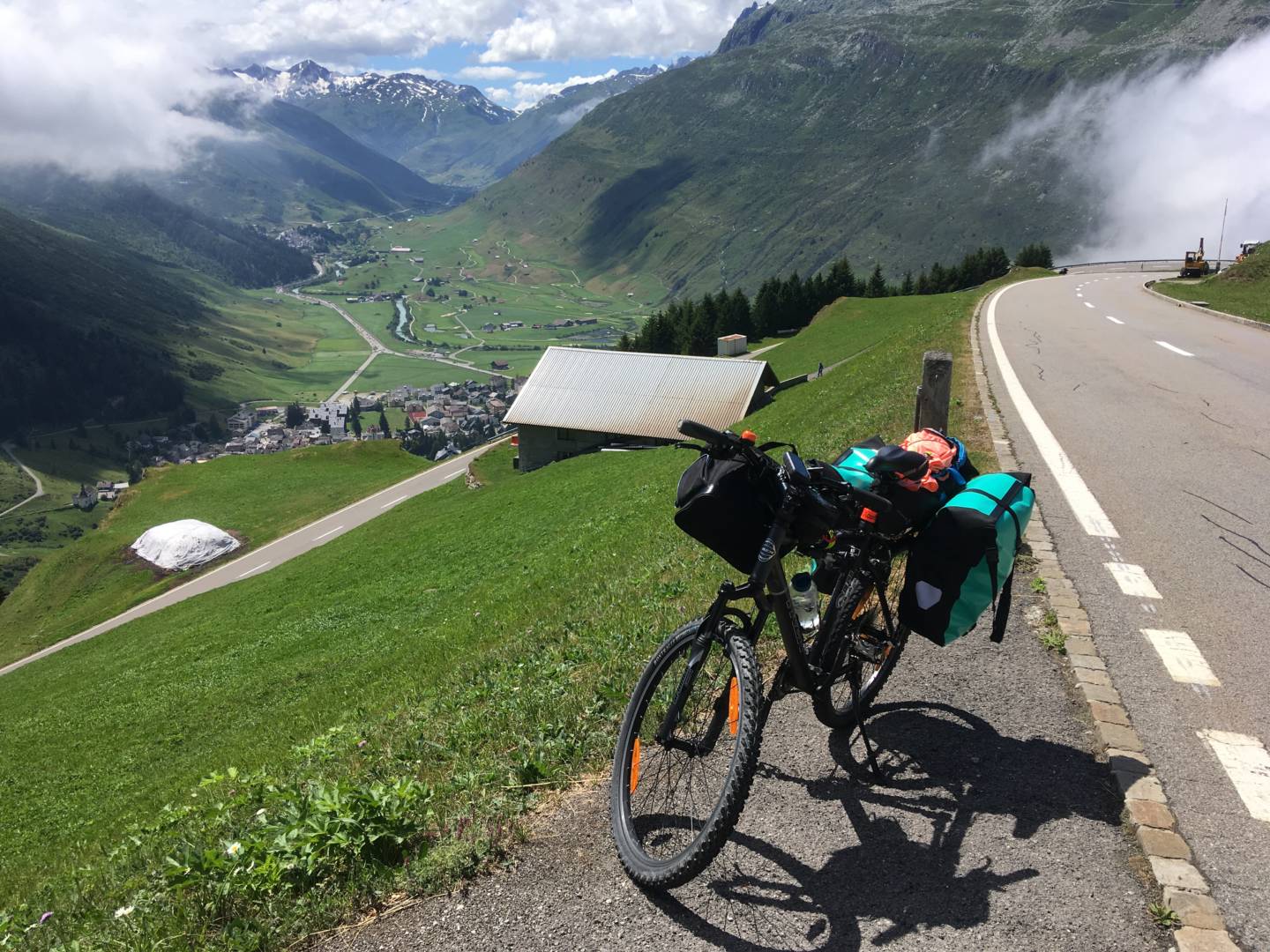 After crossing the Oberalp Pass, there is a nice long descent although the climbs are not completely over – there are a few more hills to negotiate where it is not possible to follow the river banks (but nothing as steep as the first climb out of Andermatt). After having admired the Rhine Gorge (Ruinaulta), also known as the Swiss Grand Canyon, near Bonaduz, make sure to plan an overnight stay in Chur. The oldest town of Switzerland, with a settlement history of more than 5,000 years, has a historic pedestrianised centre full of colourful houses and neat little churches, whose bell towers appear very dreamy against the mountains' mist. Chur also hosts many restaurants where you can try culinary specialties from the Grisons (Graubünden) canton: Capuns, barley soup or the famous rösti, which is more of a Swiss national dish!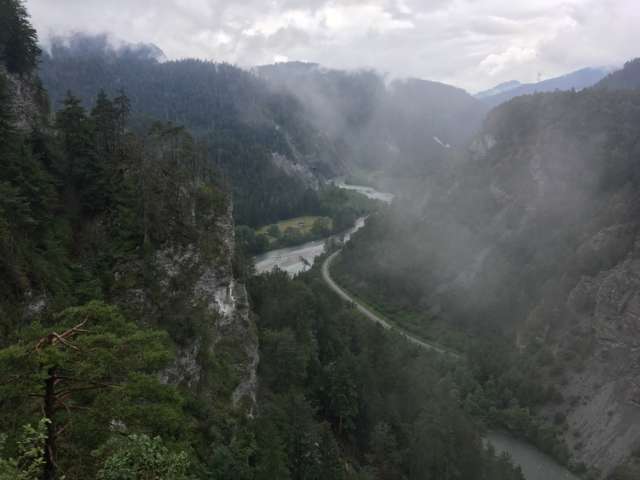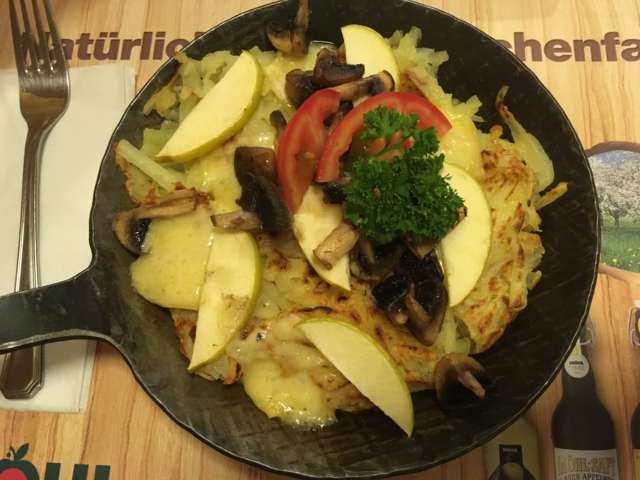 From Chur to Lake Constance (Bodensee), you will enjoy cycling through some beautiful vineyards and villages around Malans and Maienfeld and reach the Alpenrheinweg, a path directly along the Rhine presenting amazing mountain views. This cycle and pedestrian path leads from Bad Ragaz to St. Margrethen, and many information panels offer insights into the local history, nature and landscape. While you cycle along the border, why not take a trip into Liechtenstein? EuroVelo 15 doesn't enter the 6th smallest country in the world, but from Buchs you can easily cycle over the border bridge and explore Vaduz, the tiny capital of Liechtenstein.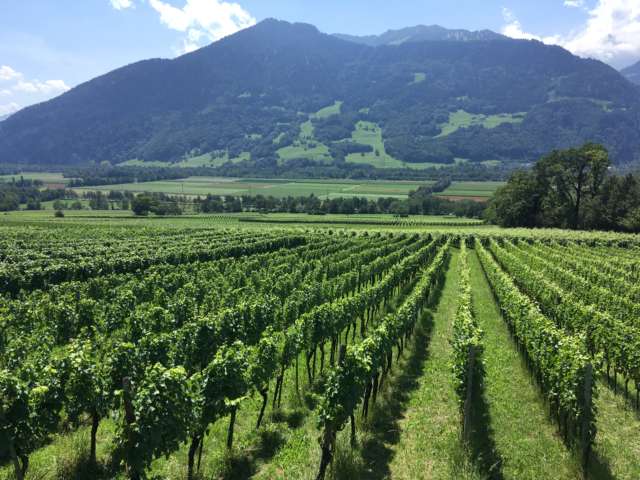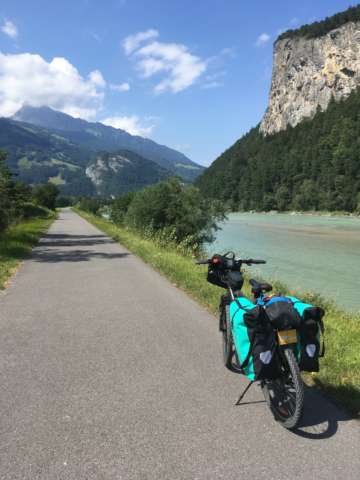 After a short stretch in Austria, you will reach the banks of Lake Constance, a lovely section that would look like a seashore if the water was not so peaceful. I recommend an overnight stay in Rorschach or Arbon, situated on the southern shore of Lake Constance and featuring beautiful waterside promenades.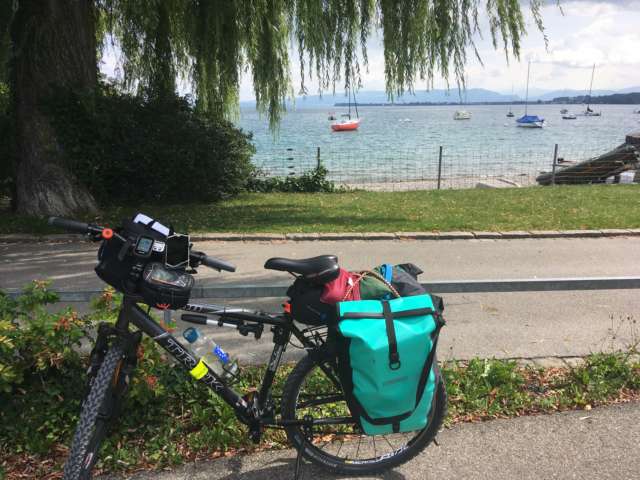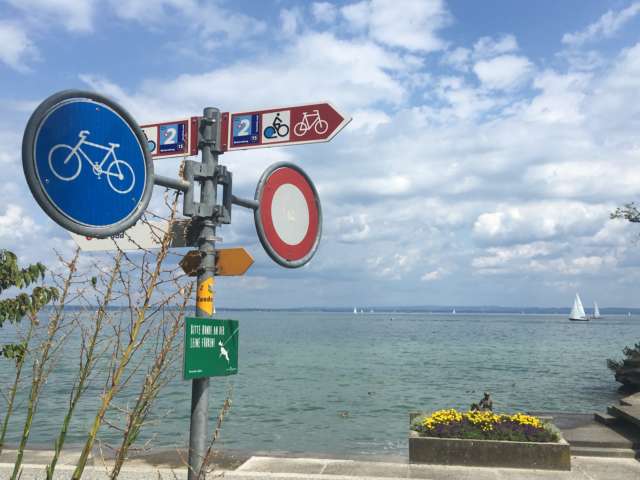 The towns along the shore abound with cafés and restaurants offering great views on Lake Constance, where you should stop to take in the sights if you are granted with good weather! I particularly enjoyed the pop-up 'Strandgartens' in Horn and Constance. Generally speaking, 'Strandgartens' and 'Biergartens', very common in the summer, are great options for a short stop during the day: they offer good casual meals for an affordable price and are often situated in very nice areas.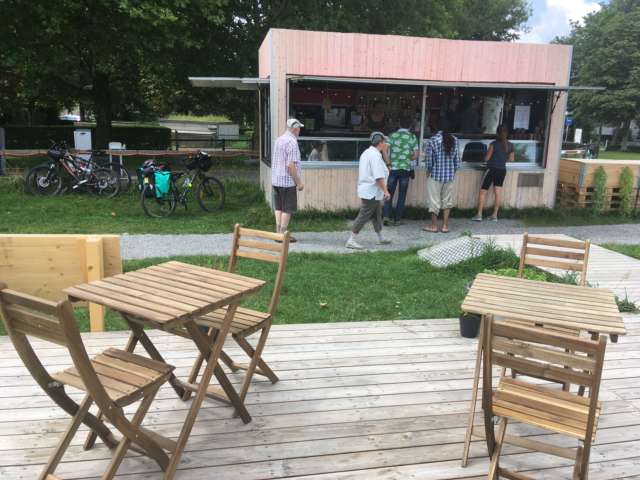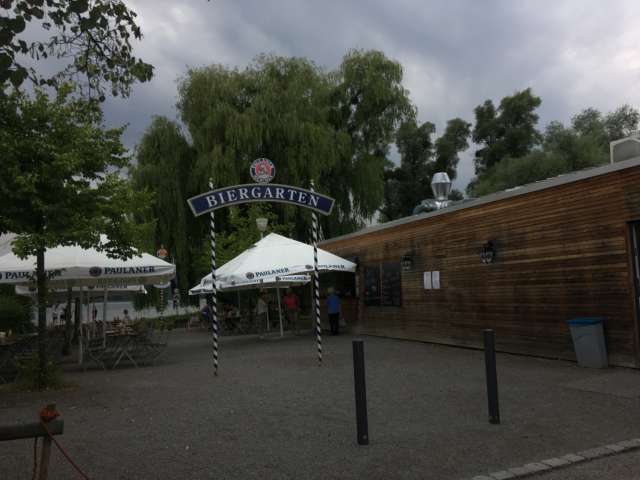 As far as accommodation in Switzerland is concerned, take a look at the Swiss Youth Hostels network (Schweizer Jugendherberger). There are 51 of these hostels spread all over the country (including Liechtenstein!) offering high-quality shared dorms for relatively fair prices. The hostels differ in size and available services, but they are always very clean and cycle-friendly, with helpful staff. I particularly advise staying at the Basel one, a truly special place due to its innovative architectural design marrying wood and steel – an unusual feature for a hostel! For other cycle-friendly accommodation options, the best place to look is the SwitzerlandMobility website: they propose hotels and camping grounds in all towns and villages along the road.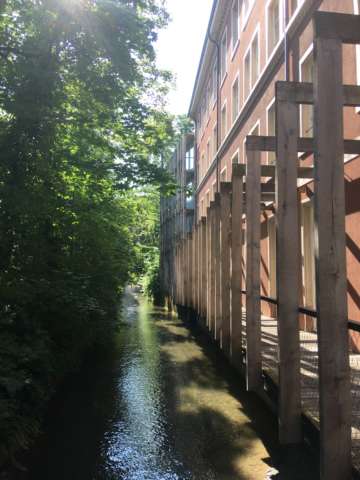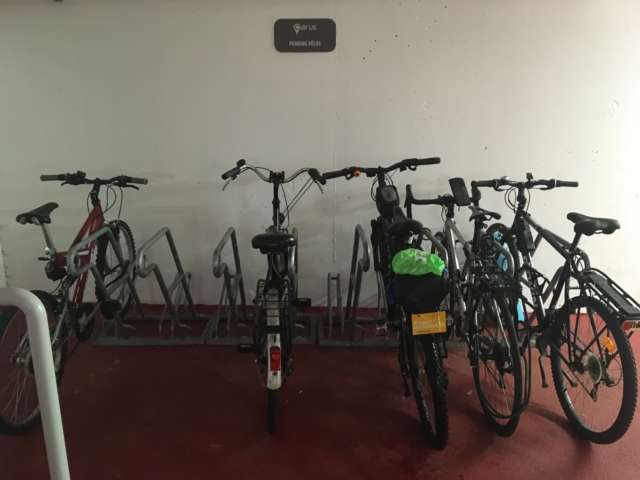 After Constance, EuroVelo 15 splits between the right bank of the Rhine, entering Germany, and the left bank, staying in Switzerland. I followed the right bank in the German region of Baden-Württemberg. The route offers some beautiful views on the Rhine River, that even rainy days cannot spoil, rather adding to the dramatic effect rendered by dark waters under a cloudy sky! Country roads are lined with sunflower fields and flowerbeds boasting orchids of all imaginable colours, that you can acquire in tiny flower shops by the side of the road. The main attraction of this section are the impressive Rhine Falls in Neuhausen am Rheinfall, the largest waterfall in Europe. In the summer, you can even take a little boat that brings you to the middle of the Rhine to climb on top of a large rock from where you can experience all the might of the river!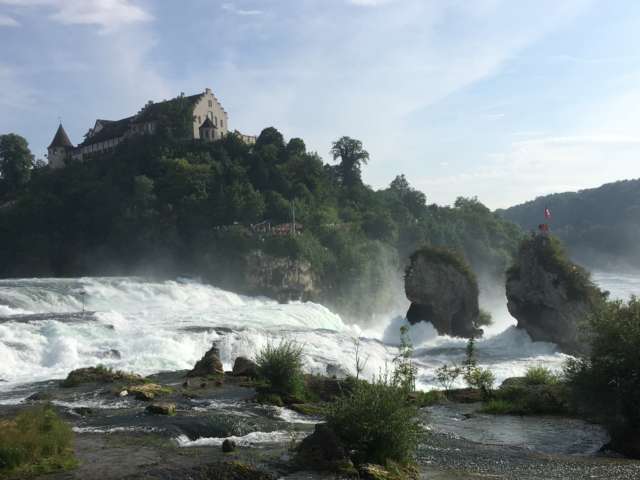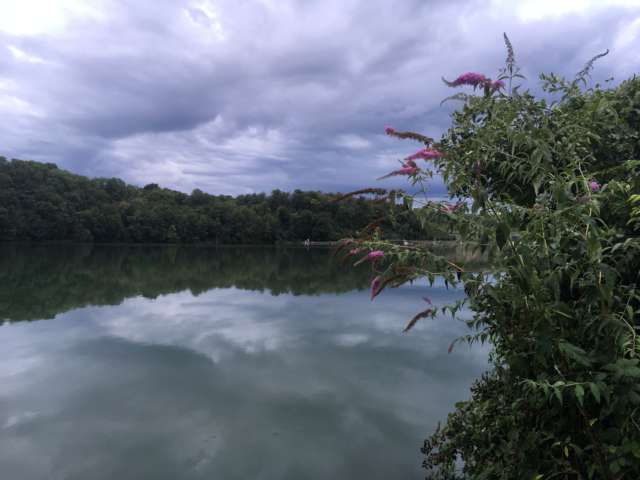 When cycling between Constance and Basel, make sure to stop, at least for a nice cup of coffee, in the lovely quaint towns that the route goes through. Among these, my favourites were Stein Am Rhein, a historic town full of half-timbered medieval houses painted with frescoes; Bad Säckingen, whose baroque monastery church St. Fridolin's Minster is well worth a look inside to admire the lively paintings from Giorgioli and where an unusual wooden bridge – the oldest and longest (200m) covered bridge in Europe – links the Swiss town of Stein to Bad Säckingen, with a border in the middle of the bridge; and Laufenburg (Baden), a fairy tale little city with colourful houses overlooking the Rhine, on the other side of which lies a Swiss city of the same name.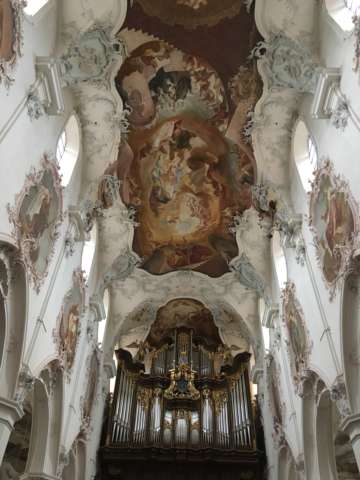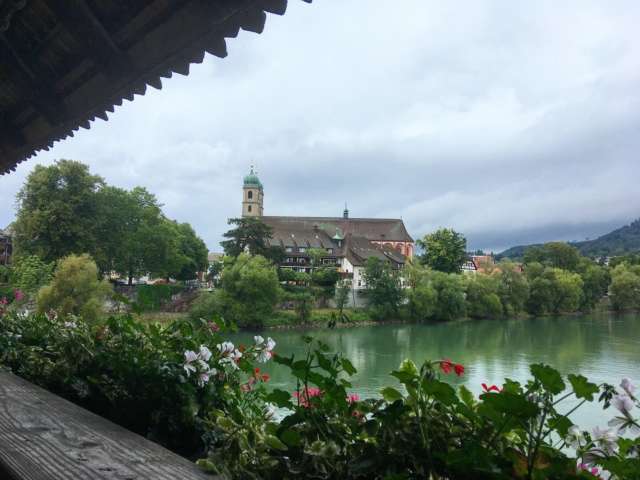 If you like museums, swimming in rivers, bathing in fountains, narrow pedestrian streets or all of the foregoing, then plan at least two days in Basel. This amazing city, located where the Swiss, German and French borders meet, counts almost 40 museums, but offers also great spots to relax, either in a café or on the river, whose banks form long and narrow beaches on both sides. Basel is full of cyclists, kings and queens of its many streets with low or no traffic.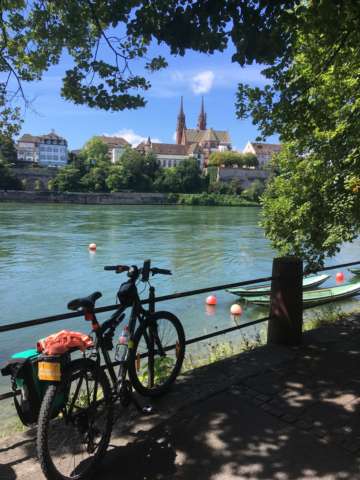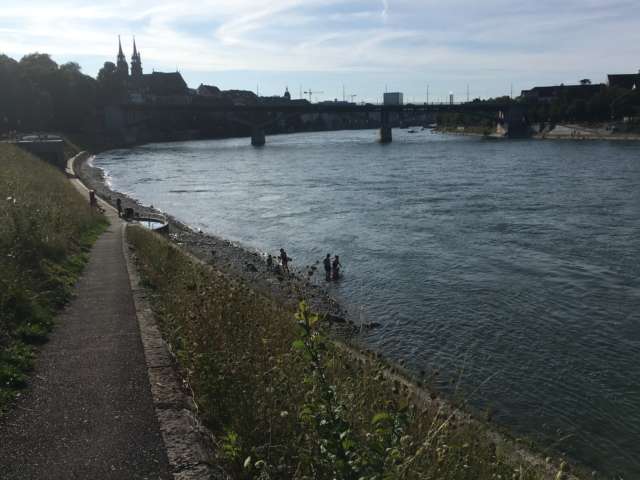 If you are an experienced swimmer, get yourself a Wickelfish bag and do like the locals on a good day: put your clothes and valuables in this waterproof bag and let yourself float down the river with the current. But be careful of the current's strength and avoid going alone! I was told that the best floating route is from Solitude Park, near La Roche, to Rheingasse because there are showers over there. From Basel, the Rhine Cycle Route once again splits, between French Alsace and German Baden-Württemberg, and I continued along the Alsatian canals. EuroVelo 15 follows part of the "Canal du Rhône au Rhin" and part of the "Canal de la Marne au Rhin" on long straight greenways, always staying close to the water. This section leads through some beautiful tree avenues, and when approaching Strasburg, you can wonder at the sight of many houseboats, not sailing on the canals anymore but metamorphosed into real houses. Kilometres pass quickly on these easy paths and regular information panels provide addresses of restaurants and hotels in the surrounding villages. But I would advise you to pack some lunch when cycling between Neuf-Brisach and Strasburg because villages are a bit scarce on this stretch, while picnic areas are plentiful!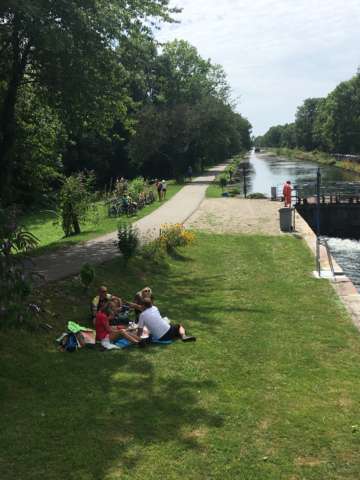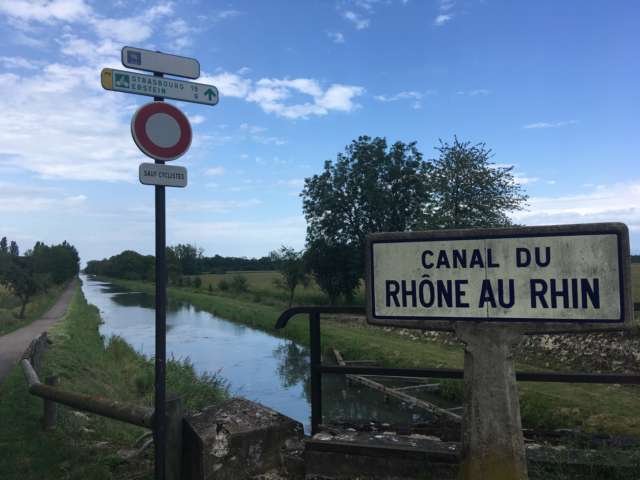 You should of course spend some time in Strasburg and visit its incredible cathedral, which used to be the world's tallest building. But stopping in the UNESCO town of Neuf-Brisach is also interesting; even though it is a bit of a ghost town, the fortifications all around this octagonal-shaped city, built according to Vauban's plans, are worth seeing. If you happen to have a few hours before you, do not miss a truly incredible museum: MAUSA Vauban, a street art museum installed in the old fortress itself, where urban artists from all over the world make art directly on the fortress' walls! It is a special place, likely to trigger your reflections on the relationship between history and art.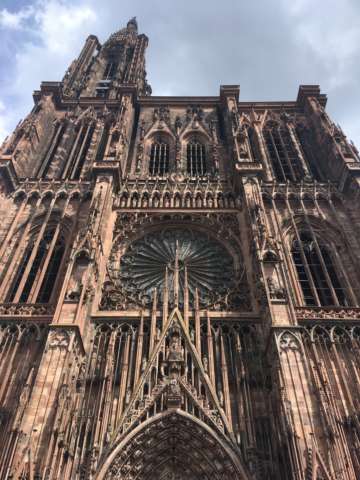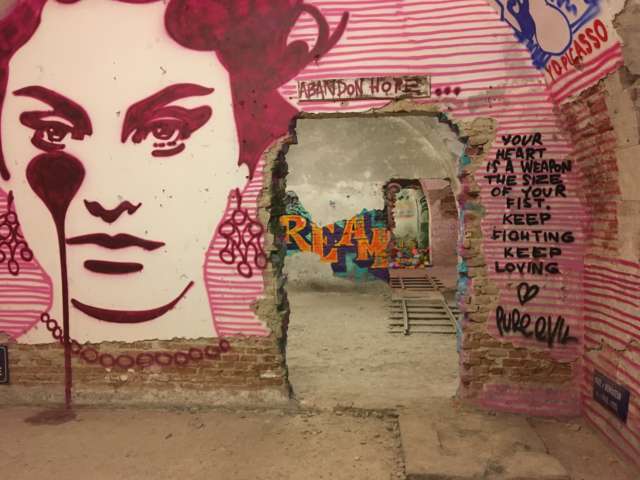 Alsace is of course renowned for its gastronomy and delicious wines – that you should try only at the end of your cycling day! Riesling, Pinot gris, Gewürztraminer, Muscat, Sauvignon, the choice is yours! The most famous Alsatian dish is probably the sauerkraut ("choucroute garnie"), but the restaurants along the route abound with other regional specialties, such as the delicious Bibeleskäs. Vegetarian options, however, are a little hard to come by… and you would better appreciate Munster cheese, that comes in all shapes and forms in those dishes! But you can always rely on the Flammekueche, a kind of Alsatian pizza, proposed with a variety of toppings. And in Strasburg, visit the shops of the "Maison Alsacienne de Biscuiterie" to bring home some "bredele"; these kinds of biscuits or small cakes are made chiefly during Christmas period but eaten all year round.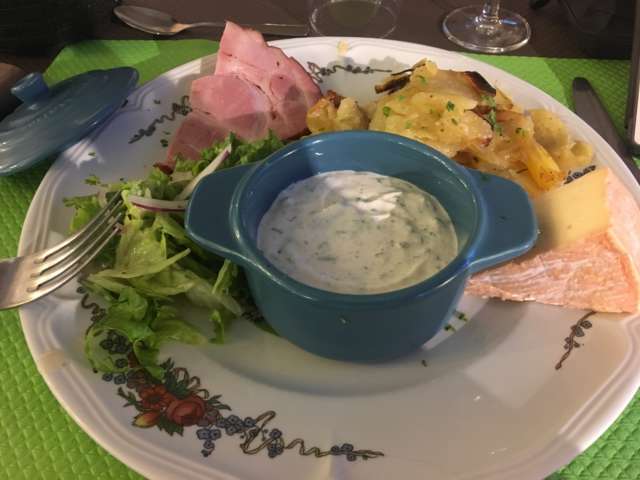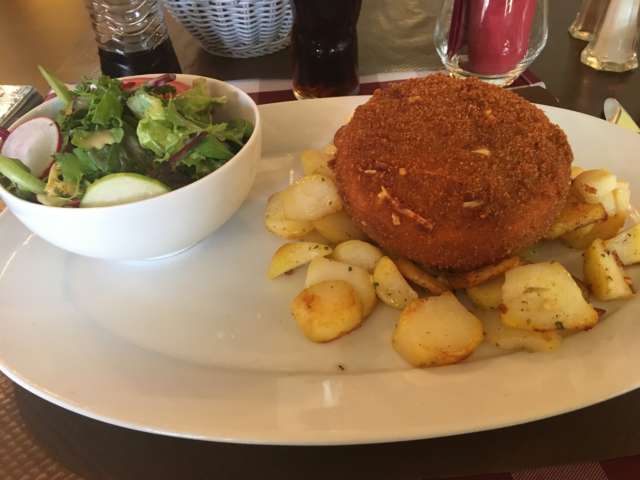 This brings us to the end of my adventures along EuroVelo 15 – Rhine Cycle Route, that I cycled until the French-German border close to Lauterbourg. Quite a nice border too, marked only by a stream among the trees! In Baden-Würtenberg and Alsace, taking your bicycle in regional trains is very easy and cheap (bicycles can even be carried for free in TER trains). You might need to climb a few steps to get in the bicycle compartment, but other passengers will normally help you if needed. Finally, don't worry about puncturing your tyre or other problems while cycling this route: so many cyclists take the EuroVelo 15 that you are sure to find someone to help you with bike mechanics. When I got my tube punctured, not 10 minutes had passed before two German cyclists stopped to offer me their help!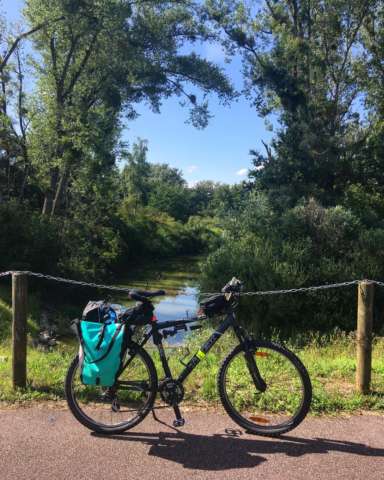 Author(s): Florence Grégoire