Back to all
From Greece to Estonia: travelling along EuroVelo 11 – East Europe Route
Friday, January 29, 2021
Claire and Olivier are two young French cyclists. After discovering bike travelling in 2018, they caught the bug and in summer 2019, they embarked on their first "big" trip: two and a half months to travel from Greece to Estonia along EuroVelo 11 – East Europe Route.
About the project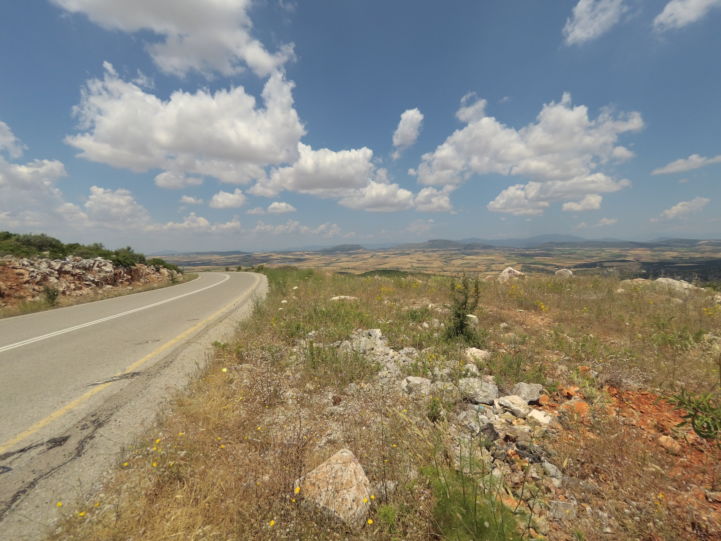 The EuroVelo network offers great opportunities to discover Europe with a bike. The network is continuously improving, which means some routes are currently still under development. One of these routes is EuroVelo 11 – East Europe Route which runs from the very north of Norway all the way south to Athens through eleven countries. We thought that raising awareness and informing people about EuroVelo 11 could contribute to increasing its popularity and, in turn, lead to further development of the route benefitting the cyclist community. Therefore, the goal of our trip was to collect data about this route and to share it.
We wrote nine topo-guides, one for each country that we crossed. They are available for free, with the GPX tracks, on our website. They are in French for the moment, for any information about our trip, please do not hesitate to contact us.
Preparation
Since some sections of EuroVelo 11 are still at the planning stage, we had to prepare an itinerary. The goal was to be as close as possible to the route described on EuroVelo.com. However, since bike travelling can involve some unexpected difficulties and since we had to accommodate for our own needs (food, place to sleep), some parts of our trip did not fully follow the described itinerary of EuroVelo 11.
Let's travel!
Finally, here we are, ready to cross Europe from south to north! When we started this trip, in June 2019, we were as excited and enthusiastic as we could be.
We were looking for a change of scenery, and our first pedal strokes in Greece offered just that. We started from Athens, heading toward Thebes. The immense plains of inland Greece were quite a physical challenge. Indeed, despite being flat, the heat was exhausting. Nevertheless, cycling through the countryside and the small villages meeting kind locals was very rewarding. One day, after having pedalled under a blazing sun with 46°C, we had to stop at a village. I do not know what we were looking like, but an old man took pity on us and offered us a cold shower using his garden hose to cool us down!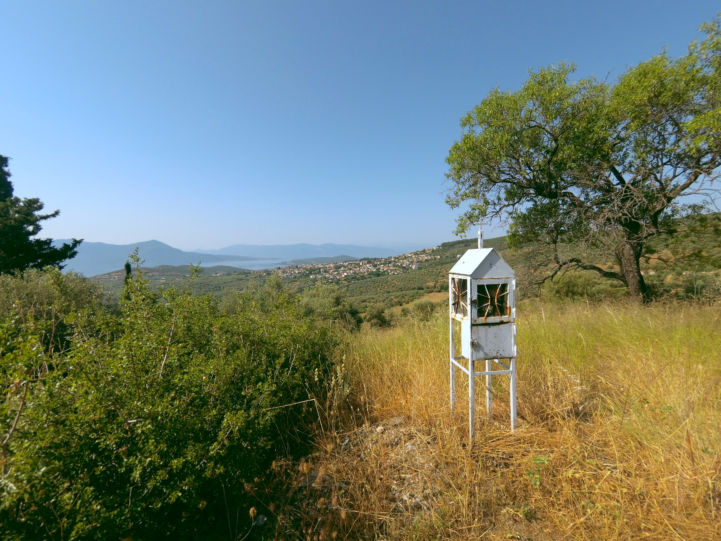 The hills planted with olive trees and the sea as a background painted a truly magnificent landscape. A benefit of the heat was that we had to change our daily schedule to wake up at around 5 am. This allowed us to enjoy the freshness and the calm of the morning.
We encountered no bigger troubles except for the packs of dogs that we would see every day lurking around roads, barking and baring fangs. We have never been attacked but they still gave us some adrenalin shots!
What surprised us in Greece was the contrast between inland rural areas and the touristic coastlines. On one day we could observe goat farmers taking their stock to the fields in the morning to see beach resorts with expensive cars and shops in the evening. I think this is the beauty of bike travelling. You cannot go from one touristic site to another, you have to cross regions that are less frequented, and so more authentic.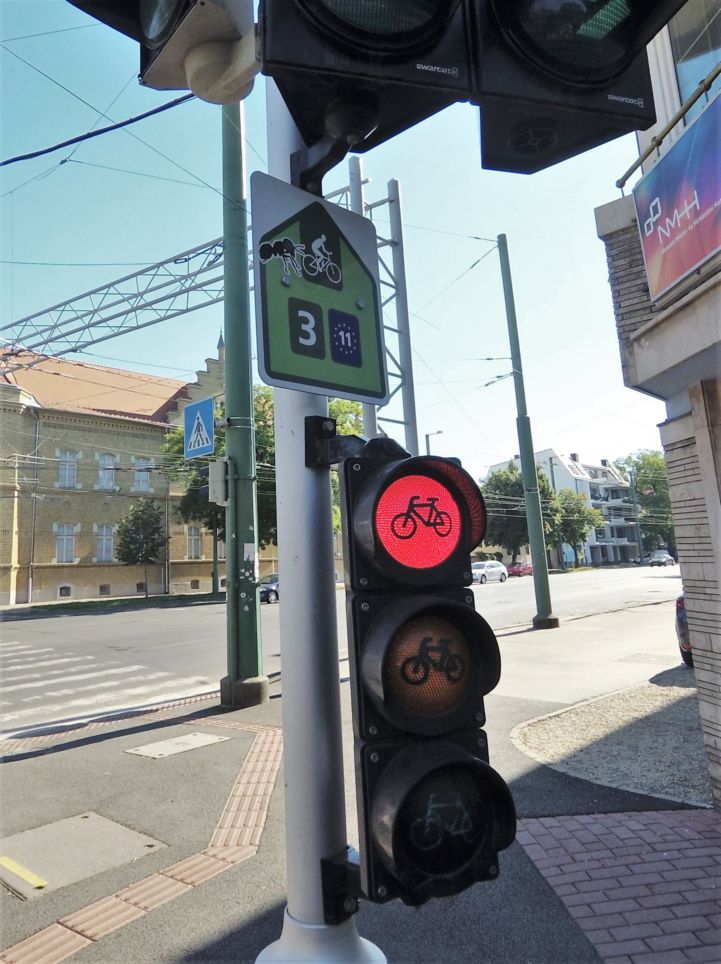 That said, we were happy to go to North Macedonia, to discover a country that was new to us. Like in Greece we were warmly welcomed. We were even invited to sleep in a monastery!
EuroVelo 11 passes by the capital, Skopje which truly impressed us. This city is unlike any other European capital, it mixes all kind of architectural style in an eclectic way. We highly recommend a stop to visit. The old bazaar, a covered market, in particular is a must see.
Then our route continued to Serbia. We had more climbs than expected in the mountains and the hills in the south. However, we were charmed by the small roads with no car traffic, crossing small villages and the sympathy of people. Some locals gave us fresh water when we were sweating under the sun which encouraged not to give up on the many climbs. In Serbia we also enjoyed low priced campsites and restaurants. That was the occasion to try local food, like sarma or prebranac.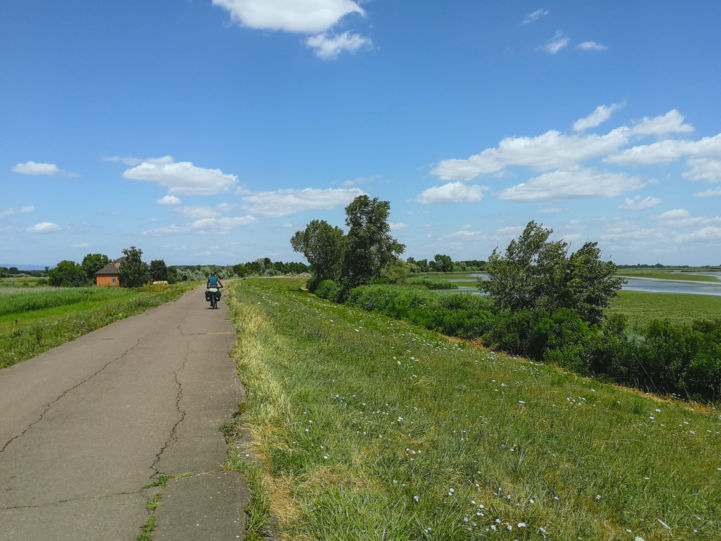 As in Greece and in North Macedonia, cycling is not so common at the moment – apart from the big cities there is no cyclist infrastructure. However, the route is mainly on small paths avoiding major roads. Occasionally, we had to take highways using the emergency stop strip.
In Hungary, we saw for the first time on this tour cycle paths with EuroVelo 11 signs. About half of the route is on dedicated cycling paths. We followed the river Tisza for almost 300 km, using a path along a dike. There is no road nearby, just fields and forests, so we saw plenty of animals: storks, deer, hares… This is really a great portion of the EuroVelo 11.
Next, we crossed Slovakia, with a quick stop to admire Kosice, a beautiful eastern city, colourful and animated. In Poland there is a very well-developed network of small roads in the countryside which is great for bike travelling. We highly recommend staying in Krakow. This city is absolutely beautiful and has a very rich history to share.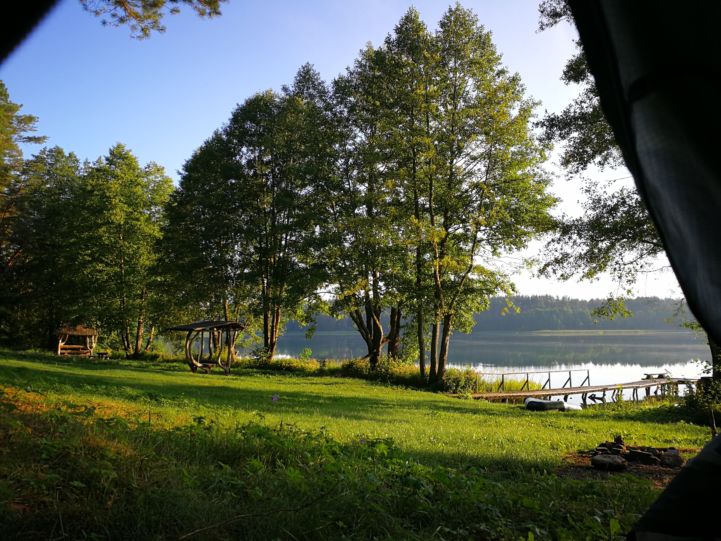 Lithuania was the first Baltic country on our route. This also marked a change in our trip, at that point we felt really connected to nature. In the previous countries, we were alternating between campsites and hotels as our night stops. In the Baltic countries, we had so much fun sleeping in our bivouacs in total autonomy. After a day of effort, swimming in a lake with crystal clear water is priceless!
The roads further intensified this feeling. In Lithuania and Latvia, most of the paths we followed are not paved with concrete or tarmac but rather consist of mixture of rocks and sand. This really gave us the feeling of nature and freedom.
In Estonia, EuroVelo 11 is clearly indicated, with signs regularly spaced. Cycling infrastructure is well developed, with cycle paths, campsites, toilets… We highly recommend the Baltic countries for bike travelling.
And then suddenly behind a corner, the Baltic sea appeared. The goal of our trip was just in front of us. The summer was coming to an end, and we needed to get back to France to complete our studies. But that trip confirmed our love of bike travelling and our determination to travel for a long period of time in the future.

Text and photos: Claire
For more information you can follow Claire and Olivier on their blog or on Instagram.