Back to all
Meet the 2021 EuroVelo Summer Photo Contest Winners
Friday, September 24, 2021
This year, we invited everyone to join the #MoreCyclingTourism movement, share the best photo of their cycling trips along EuroVelo 15 - Rhine Cycle Route or EuroVelo 19 - Meuse Cycle Route and inspire others to travel in a new way this summer. These are our winners!
Like last year, our annual Summer Photo Contest was again held against the backdrop of the global health crisis. What has emerged over the past 12 months however is the widespread support to reshape traditional tourism and transport flows by moving away from unsustainable means of transport. And with travel slowly resuming, we encouraged cyclists to stand for #MoreCyclingTourism and further inspire others to reimagine the way we travel for a greener, healthier and more inclusive future.
Between July and August, many of you captured and shared the best moments of your summer with us along EuroVelo 15 and EuroVelo 19. It was incredible to see the diversity displayed in the photos this year: solo/family excursions along the river banks, culinary explorations, beach holidays, highland adventures, camping trips and simple city tours from cyclists of all ages!
We would like to thank everyone for inspiring others and participating in the contest under these special circumstances. Get to know the winners below.
EuroVelo 15 – Rhine Cycle Route
Winner: David, Jorge and Damian (@panzudos.pero.piernudos) Prize: €1,200 cycle tourist package along a section of EuroVelo 19 (proposed by www.dutch-biketours.com)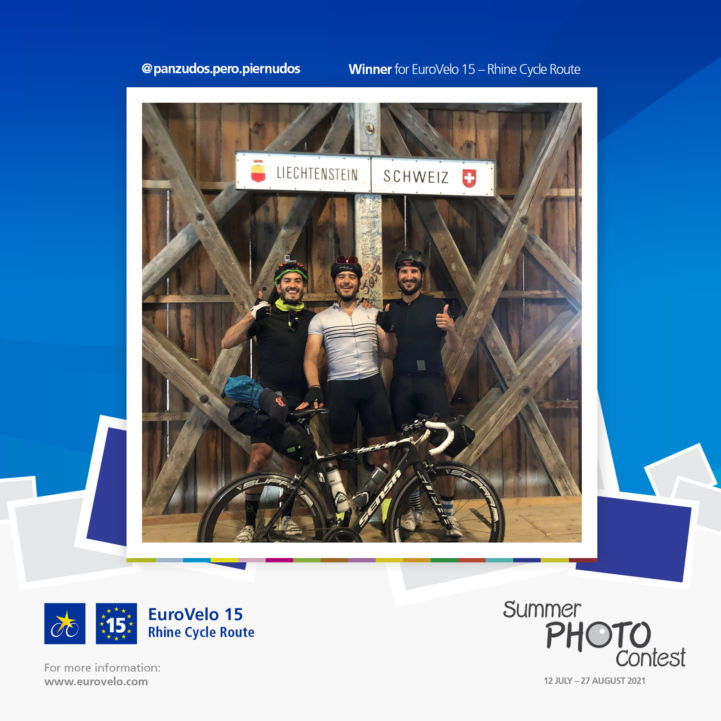 Tell us a bit about yourself? We are not just one but three adventurers that come from Mexico and are living in The Netherlands. An architect (David) and two Plant Scientists (Jorge & Damian). Our friendship started when we travelled the Rhine Route in 2020. We really love the outdoors and the experiences we get while riding a bike. We like spicy food, tequila, beer, good times, stroopwaffles, and dancing. Where/how was the winning photo taken? Is there any interesting story linked to it? It was taken on the border between Switzerland and Lichtenstein. That was our 3rd day on the Rhine Cycle Route. We left Chur and we headed towards Bregenz, next to the Bodensee. For us it was the last day of experiencing the Swiss alps and we decided to take a detour from the route to visit what could be the best representation of how people lived in that area: Heidiland. Unfortunately for us the small detour turned into a couple extra hours on the bike, having to climb through steep dirt roads towards our destination, all with road bikes which just increased the pain in our hands and the worries in our heads. After a well-deserved break at Heidiland and a visit through the park's buildings we still had a long way ahead of us. The route to Bregenz turned out to be harder than we thought because of the hot weather and the challenging winds taking every little bit of energy we had left to be able to finalise the day and enjoy an incredible schnitzel and a large beer! What do you think about the EuroVelo initiative? We love the initiative. The idea of traveling by bike through all Europe is very exciting! As soon as we finish a EuroVelo we start thinking about the next route that we will do next year. Our objective now is to do a different route every year and the easiest way is just to follow a EuroVelo. This network is not only to connect countries but also people.
EuroVelo 19 – Meuse Cycle Route
Winner: Pieter (@pieterdg) Prize: €1,200 cycle tourist package along a section of EuroVelo 15 (proposed by www.bike-touring.de)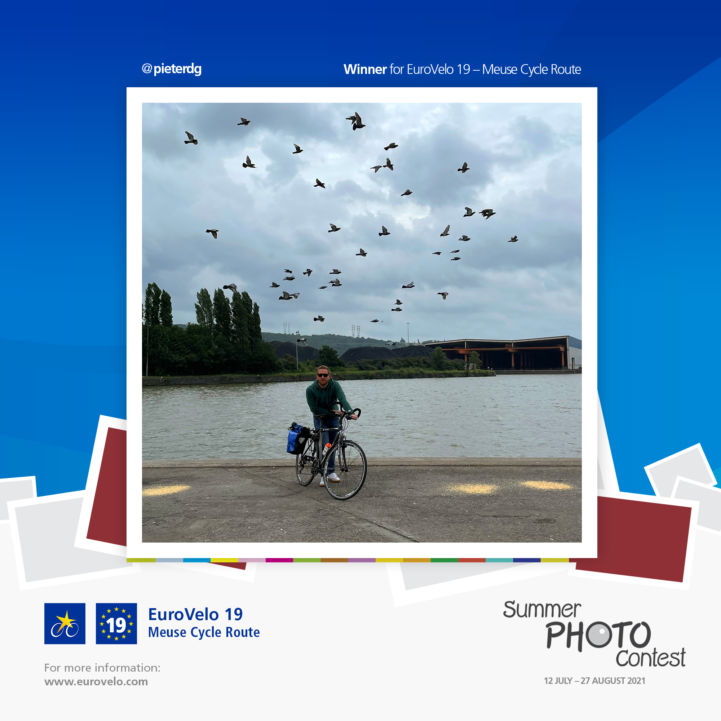 Tell us a bit about yourself? Hi, I'm Pieter, I'm 35 and live in Ghent. I was always interested in bikes and cycling and because of the COVID pandemic I started to cycle more. This August I went on the Kustroute in the Netherlands. The next trip I'm planning is cycling on the EuroVelo 15 route through Cologne and Strasbourg. Where/how was the winning photo taken? Is there any interesting story linked to it? This photo was taken on the EuroVelo 19 route when we were cycling to the centre of Liege. The weather was not the best but we didn't experience any rain! The industrial scenery, mansion houses near the Maas river and docked boats were really nice to see. What do you think about the EuroVelo initiative? Once I got to know the EuroVelo initiative I was directly interested. The way they connect cycling and travelling is an eye-opener and a great initiative. You will never know what will happen on your trip, what discoveries you will find or where to camp.
All photos submitted for the contest can be viewed on our Instagram account. We thank everyone for participating and we hope to see you in our future contests!
Author(s): Omer Malak, with contributions from the contest winners