Back to all
Après-Vélo – The culinary dimension of EuroVelo routes (Part I: EuroVelo 15 – Rhine Cycle Route)
Tuesday, January 29, 2019
Many people in the cycle-tourism industry share the impression that good food is a crucial motivation for the cycle tourist. It certainly is for the EuroVelo correspondent writing these lines. There are few activities that raise your caloric demand to a similarly high level as several hours pedalling on a bike in changing landscapes. Estimates vary, but you are likely to require at least an additional 200 calories per hour. And what better reward than enjoying all the beautiful local specialties, wherever you are, with a clear conscience?
Similarly, a cold (alcohol or alcohol-free) beer after a hot day in the sun is a wonderful experience and a strong reminder of how good the little things in life can be. Some people even go as far as to argue that cycle tourism is just a pretext for being able to eat and drink more! While this point is likely controversial, we would like to provide you with more information on the culinary side of EuroVelo routes – just in case you are also a fan of the "Après-Vélo", as one might call the pleasure of a good meal after the cycling is finished.
We will start to look at the culinary highlights of EuroVelo 15 – Rhine Cycle Route, which is the first fully certified route in the EuroVelo network and was voted the Most Popular EuroVelo Route 2017 by the users of EuroVelo.com.
From the huge number of local specialties in the various regions, here's a selection of specialties that you should not miss when cycling along the Rhine from the source to the mouth. And do not forget: Investing in good food is an investment in your health, one of the most precious things…
Switzerland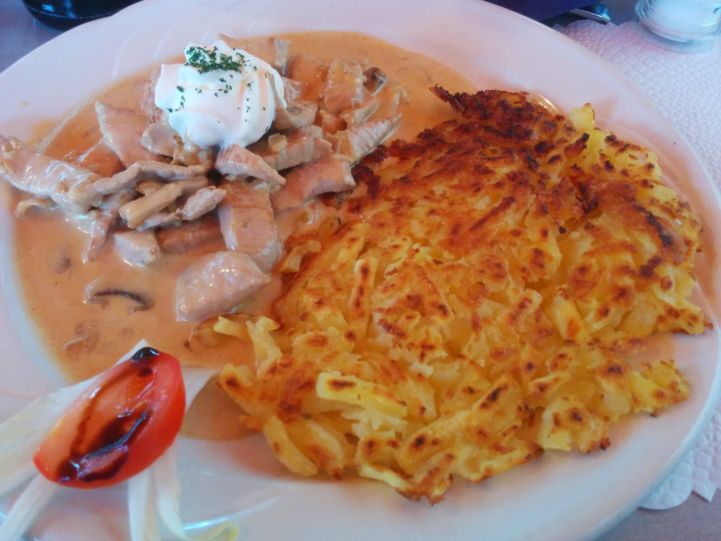 EuroVelo 15 – Rhine Cycle Route cyclists begin their journey in Switzerland, in the Graubünden canton. As a starter, we need to highlight a highly recommended and traditional Swiss dish called Rösti or rather rööschti, which consists mainly of potatoes, in the style of a fritter. It is usually served to accompany other dishes and is commonly available in Swiss restaurants as a replacement for standard side dishes. It is particularly good when being crisp at the outside and juicy at the inside thanks to the generous use of butter…hmmm!
Regional specialties in the Graubünden canton include Pizzoccheri (a stew of buckwheat noodles with various vegetables and cheese), Capuns (roulades of chard or lettuce filled with Spätzle dough), Maluns (a potato-based fried dish), Pizocels (reminiscent of pasta), Chur Meat Pie, Pear Bread (a thin layer of bread dough filled with a mixture of dried fruit, nuts and bread dough) and the Graubünden Nut Cake. Not to forget the Graubünden Barley Soup (with bacon) and Plain in Pigna (a kind of Rösti with bacon and sausage).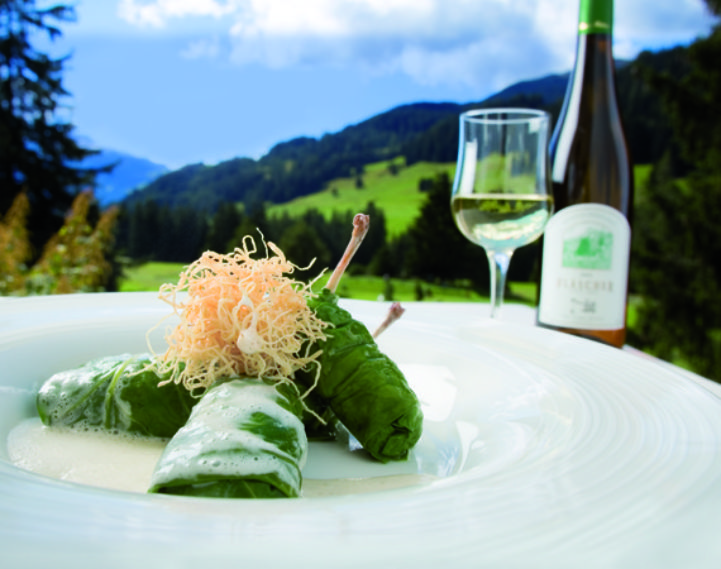 There are also some excellent dessert options making every tired cyclist smile: A bakery in the Swiss town of Gottlieben is world-renowned for its so-called "Gottlieber Hüppen". These are filled rolled waffles from the home of chocolate. Each of them is rolled like a cigar before being filled with Swiss chocolate or gently-melting amaretto-flavoured creams. You will get them at Lake Constance and should eat them before the midday sun.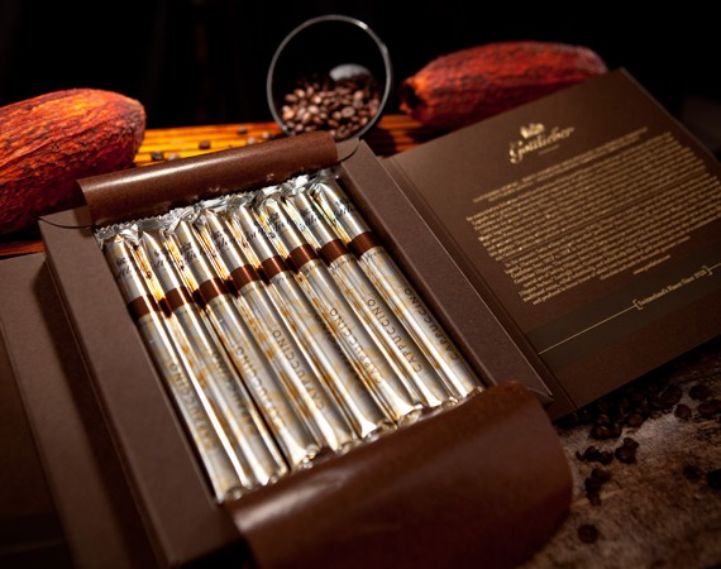 Moreover, "Basler Läckerli" are traditional hard spice biscuits from Basel. They are reminiscent of gingerbread and based on honey, hazelnuts, almonds, and crystallised fruits. The flat baked dough is, when still hot, cut into rectangular pieces and then topped with a sugar glaze. Try to take a lunch break in Basel and enjoy these biscuits. They will give you energy for the afternoon.
France
If you continue on the left side of the Rhine, you'll get to France behind Basel. The Alsace's regional kitchen is particularly rich and is also known for its wine and beer. It incorporates Germanic culinary traditions and is characterised by the use of pork in various forms. While the choucroute, a local variety of Sauerkraut, is of course vegetarian, it is traditionally served with pork, bacon and sausages from Strasbourg, Morteau or Montbéliard. Side dishes often include roasted or steamed potatoes or dumplings.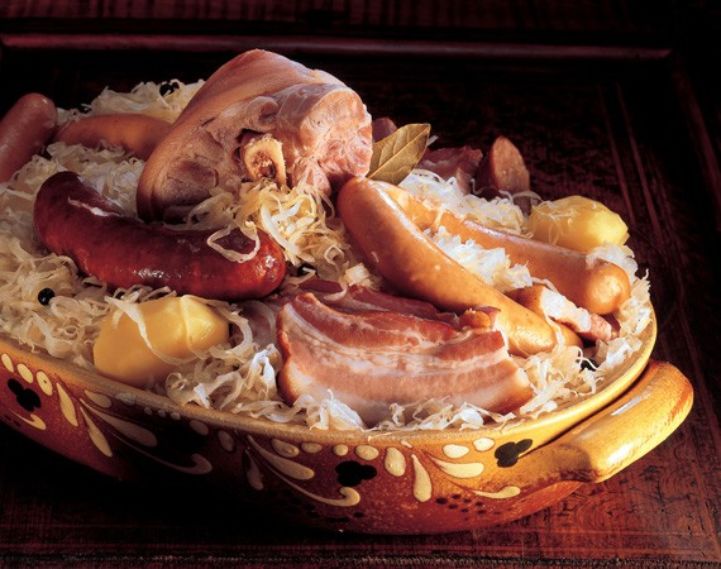 Other regional dishes include Baeckeoffe, a casserole dish comprising sliced potatoes, sliced onions, cubed mutton, beef, and pork marinated overnight in Alsatian white wine and juniper berries. It is cooked only slowly. Many will know Flammekuechle or Tarte Flambée, consisting of thin bread dough covered with cheese or crème fraîche, thinly sliced onions and lardons. They can also be eaten cold during a break or picnic.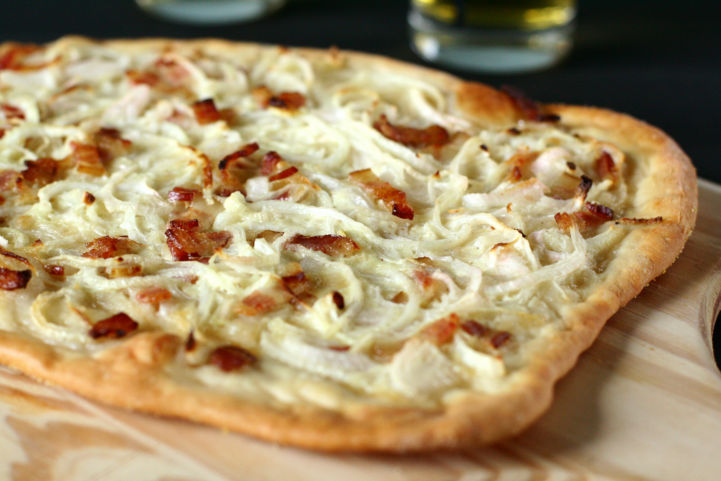 Germany
Continuing on the right side of the Rhine behind Lake Constance will first bring you to Baden-Württemberg. One of its traditional dishes is Spätzle, a type of pasta made with fresh eggs. They often accompany meat dishes prepared with an abundant sauce or gravy, such as "Zwiebelrostbraten", comprising fried beef with onions in gravy. Other specialties include Black Forest Ham, a variety of dry-cured smoked ham produced in the Black Forest region of Germany, and "Zibärtle", a fruit brandy with marzipan aroma, which is quite a rare spirit. It is made from wild mountain plums, the so-called "Zibarten", which can be found in the medium-high locations of the Black Forest. Something to discover for those who love hills.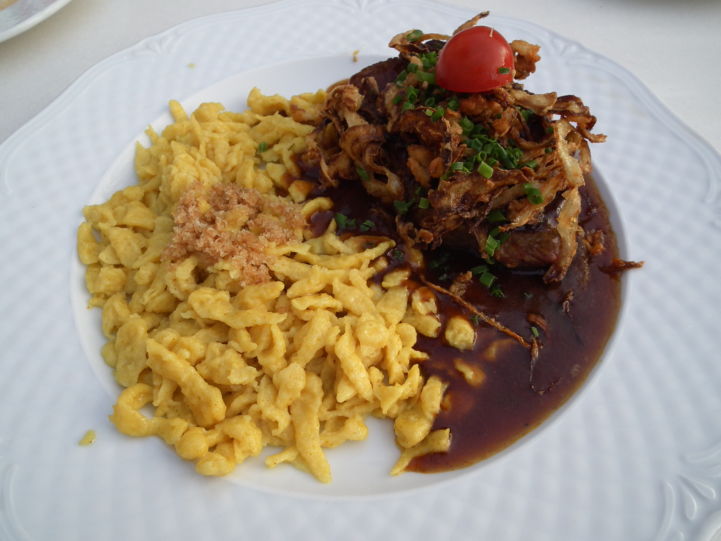 Further north, cyclists will come to Rhineland-Palatinate. In addition to the popular Riesling grape variety for white wine, the region is also known for its Federweißer, a sparkling product of fermented freshly pressed grape juice that is available from early September to late October. Other specialties include "Pfälzer Saumagen" (sow's stomach), which is similar to a sausage but contains the stomach as an integral part. While vegetarian cyclists will have a hard time getting full with this kind of dish, "Zwiebelkuchen" is made for them and often vegetarian. It is a one-crust onion cake made of steamed onions, cream, and caraway seeds on either a yeast dough or a leavened dough. Goes well together with the Federweißer. Baden-Württemberg is also the home to around 80 varieties of vegetables, abundant fruit, chestnuts, nuts and even lemons, kiwis and melons.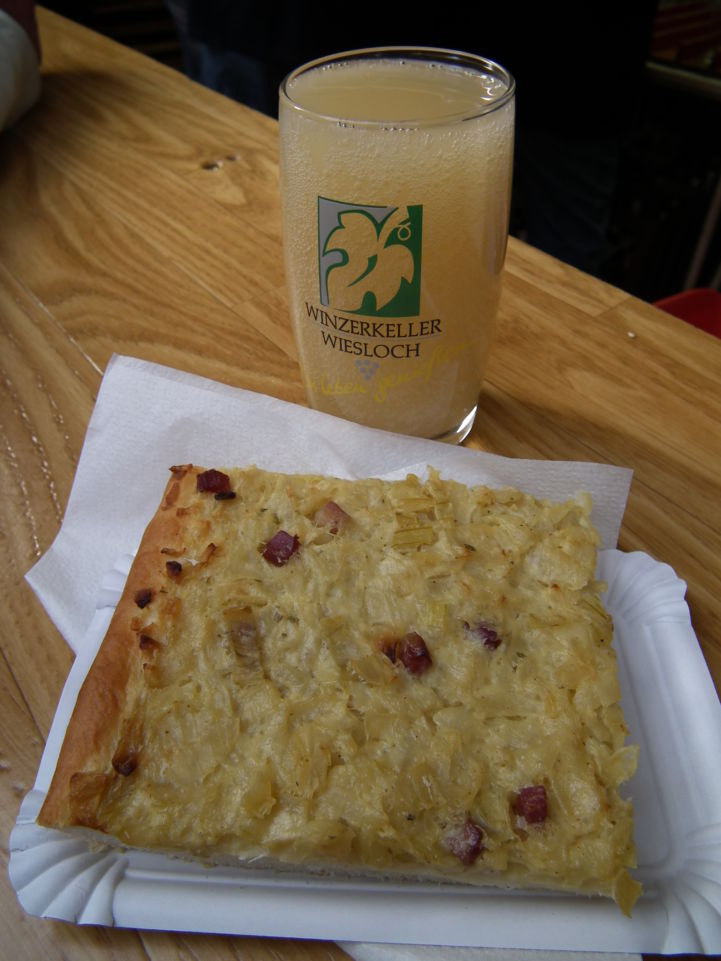 The excitement surrounding the asparagus season between mid-April and the end of June in Germany is amazing, sometimes assuming religious proportions. There are gourmets barely talking about anything else. And you can eat lots of it, because it has almost no calories. The market garden area in and around Ried in Hesse is particularly famed for its asparagus, strawberries, onions and other fruit and vegetables. The traditional three-day Lampertheim Asparagus Festival on the second weekend in June is the ideal opportunity to savour this region's speciality, but it's not the only one.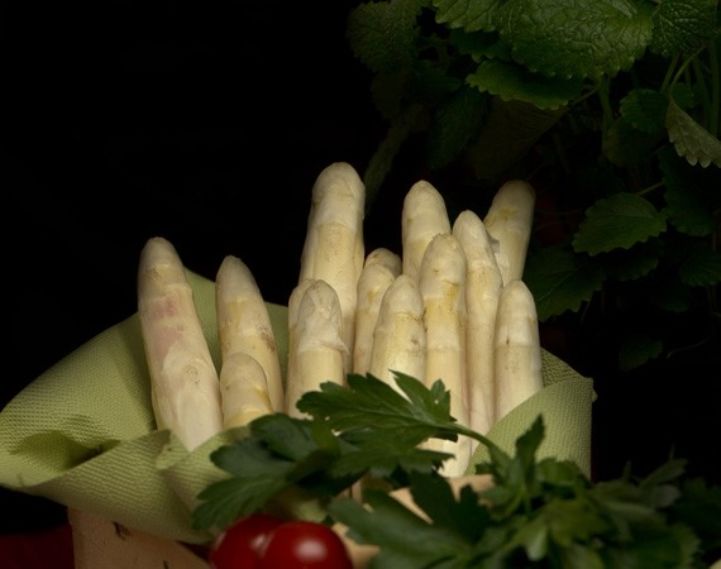 But Hesse is also well-known for its excellent fine sausages, such as the slowly-matured Ahle Sausage, as well as its cheese and sauce specialties. Especially the sausages can be transported well on a bike, by the way.
In addition to meat and sausages, beer belongs to the staple foods in North Rhine-Westphalia. You could plan some bar trips in Koblenz, Cologne and Düsseldorf and stop at one of the numerous "Brauhäuser", the beer breweries that also serve large meat dishes. Don't try to go vegetarian here, they just cannot do it. And these beer varieties are also always available alcohol-free.
Regional specialities include "Pfefferpotthast", a stew made from beef and onions; Panhas, a meat pâté with buckwheat flour, and "Münsterländer Töttchen", boiled veal with an onion-mustard sauce. A Rhineland classic is the "Rhenish Sauerbraten", a pot roast including raisins to provide a sweet balance to the sourness and acidity of the marinade. Furthermore, Düsseldorf has a large Japanese diaspora and excellent sushi restaurants.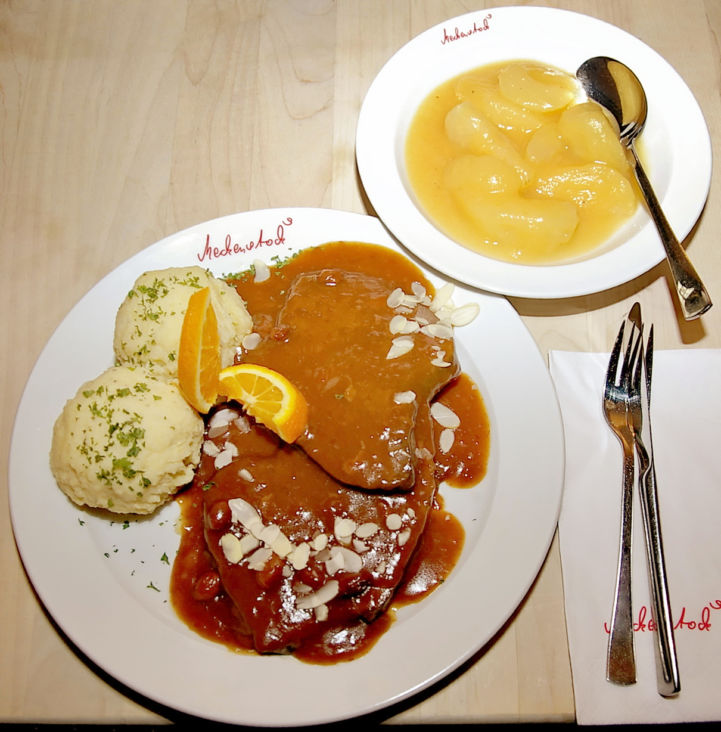 The Netherlands
At the end of your trip, you will reach the Netherlands. We recommend top-quality gouda made from particularly fat milk of Jersey cows. But the proximity to the sea has also given rise to a cuisine comprising excellent Matjes herring and mussels dishes. Just like their German neighbours, the Dutch also love bread, which comes in many forms and good quality.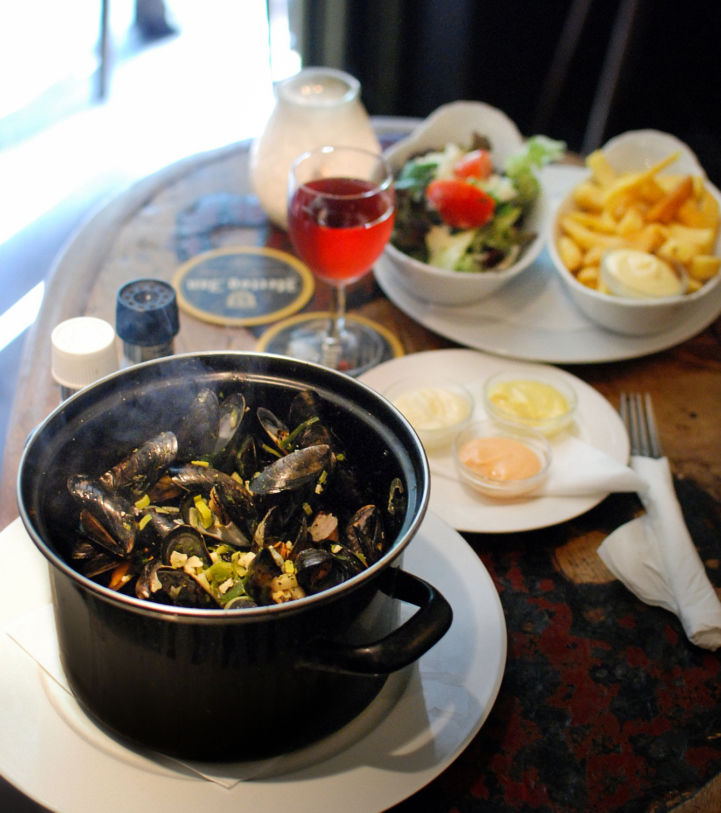 Apart from that, Dutch cuisine comprises many vegetables and little meat. Local restaurants serve such specialties as Patat (local adaptation of French fries) or Krokets (rolls with ragout). A famous dessert option is the hot "stroopwafel", thin waffle cookies filled with sweet syrup in the centre.
We hope that this overview has stimulated your appetite and given you some inspiration for your next cycle trip. Enjoy!
Author(s): Ernst Fahrenkrug
Photo credits: Rösti: Wikimedia Commons, originally contributed by Jpatokal, as served at restaurant Zur rote Buech, Zürich; Capuns: EuroVelo; Gottlieber Hüppen: EuroVelo; Sauerkraut: EuroVelo; Flammekuechle: Wikimedia Commons, Lulu Durand; Zwiebelrostbraten: Wikimedia Commons, 4028mdk09; Federweißer: Wikimedia Commons, 4028mdk09; Asparagus: EuroVelo; Sauerbraten: Wikimedia Commons, Johann H. Addicks; Mussels: Wikimedia Commons, Takeaway.