Back to all
The new EuroVelo Overview Maps have arrived!
Monday, March 2, 2020
Over 86,000 km or 53,000 miles of cycle routes across Europe are now summarised in one map. On a scale of 1:5,000,000, the map now includes the recently-added EuroVelo 19 – Meuse Cycle Route and the extension of EuroVelo 8 – Mediterranean Route in Turkey.
All EuroVelo cycle routes are illustrated with accurate tracks because we now have up-to-date and accurate GPX data from all our National EuroVelo Coordination Centres and Coordinators (NECC/Cs) and other partners. The map also makes it clear the development status of each of the routes.
On the back of the map is a short introduction to each route, highlighting the theme and main attractions. You will also find here the contact details of the NECC/Cs in order to find more detailed information on the national level. While the examples of national signs will help ensure that you will not get lost on the ride!
The two most significant changes to the new EuroVelo Overview Map are the addition of the two new parts to the European cycle route network. EuroVelo 19 - Meuse Cycle Route joined the route network in March 2019. The route stretches from France to The Netherlands via Belgium following the course of the Meuse River. A cycling trip on the 1,050 km long route welcomes cyclists of all levels and is highly recommended for family rides. Enjoy the Belgian waffles or the famous "madeleines" of the Lorraine region in France. The extension of EuroVelo 8 – Mediterranean Route in Izmir, Turkey is the next highlight. A 500-km coastal route joined the cycle network in October 2019 and is therefore now included in the new EuroVelo map. Explore the Aegean Sea and the third most populous city in Turkey.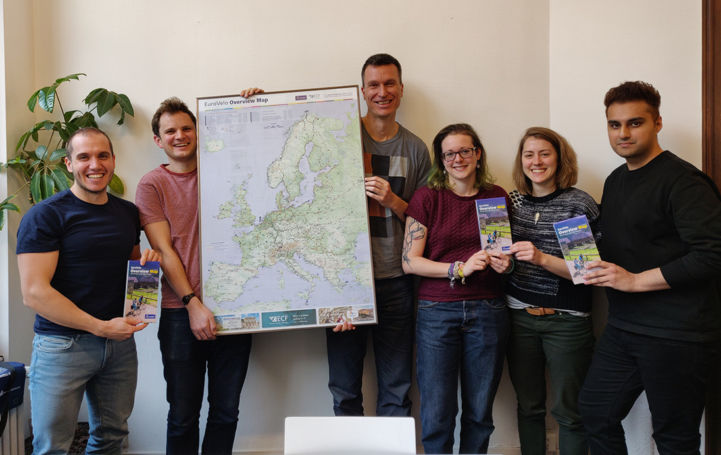 Would you like to cycle on one of the EuroVelo routes but haven't decided on which one yet? Or have you already travelled one or more routes and would like to have the map as a poster at home? By making a donation to EuroVelo, you can receive the map and a certificate thanking you for your support. With larger donations you can also receive a service handbook or even a EuroVelo cycling jersey. You can even download a high-resolution digital version of the map (large file).

Author(s): Thessa Gebhardt