Back to all
EuroVelo 19 - On the banks of the Meuse
Wednesday, January 29, 2020
Lukas Sentner is a European slow traveller and cycling enthusiast. Since 2018 he has covered over 10,000 km around the globe powering his bike on passion! His longest journey led him across Scandinavia for the UNICEF charity action Dreams are borderless. This month we are happy to share Lukas' experiences with the EuroVelo community!
Life is better on bicycle - for sure that's true for me! After having previously used the European cycle route network when pushing the pedal from Berlin to Nordkapp, it was clear to me how I wanted to spend this summer of 2019. Back then, I lived and worked in Brussels and became friends with a Belgian guy called Jan from Maaseik who had a similar interest in cycling. His childhood dream has always been to cycle the whole Maasfietsroute. In 2018, we had cycled along the Northern-most fjords of Norway before heading to Senja Island on EuroVelo 1 -Atlantic Coast Route. We agreed during that trip that the following year we would tackle EuroVelo 19!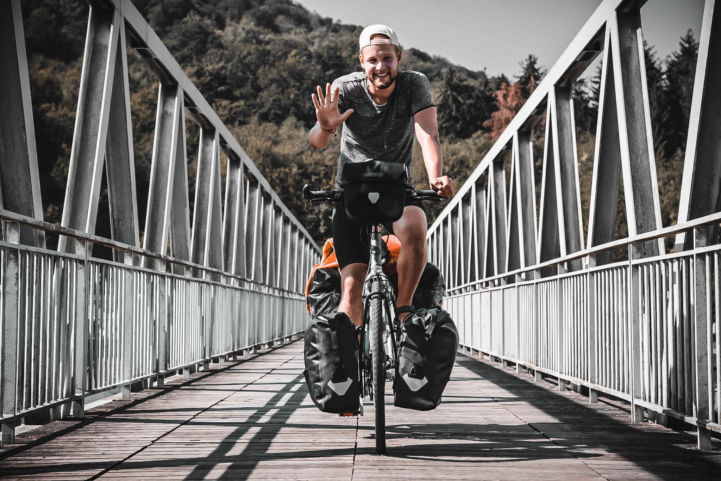 Technically, the itinerary of EuroVelo 19 is 1,050 km long and passes through three different countries in western Europe – France, Belgium and the Netherlands. It runs exactly along the Maas River connecting the French Plateau of Langres to Rotterdam via Hoek van Holland where it connects to the North Sea.
EuroVelo 19 is the newest route in the European cycle route network having only joined at the beginning of 2019. In mid-August I started my journey in Brussels in front of my apartment cycling southwards, downstream towards the French source of the Maas River. At this moment I did not know that this extra trip plus some detours would double the official distance up to round about 2,000km in the end.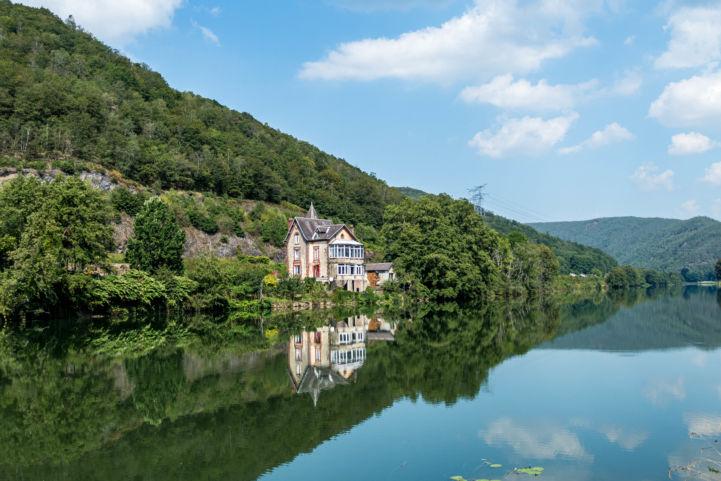 After cycling 96km and crossing the Wallonian capital of Namur, I ended up in a small village called Lessive. Deep in the green countryside, I enjoyed this part of Belgium, well and truly off the path. Through the cyclists platform Warmshowers I got in contact with Oriane and Baptiste who welcomed me into their home. I highly recommend the use of Warmshowers.org to every bicycle traveller. It is based on the principles of Couchsurfing and after using it for two years, it's hard to describe in words, how many honest, great people I have met – just like this day! Again, "grand merci" to both of them! I will never forget the sweet taste of those tomatoes bought at the eco-farm around the corner. They provided so much great energy after cycling 100 sweaty kilometres with surprising elevation and muscle pain.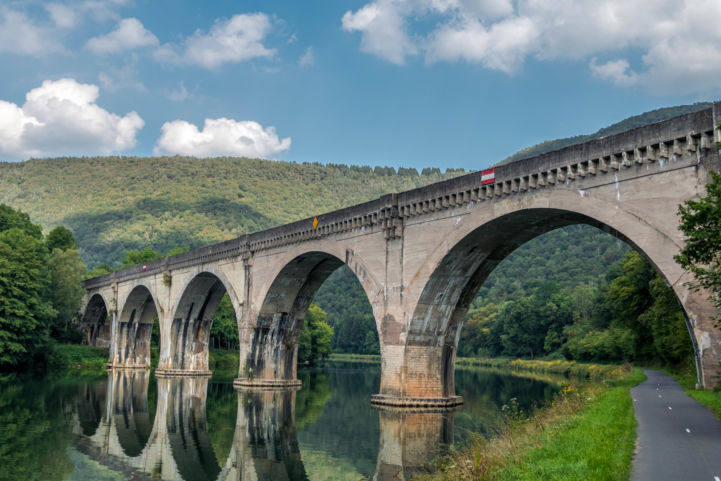 I met my friend Jan a few days later at the "Festival International des Arts de la rue de Chassepierre" in the area of Florentville. We had great fun by observing different kinds of artistic shows, jugglers and clowns. The area of the French Ardennes National park has great cycle paths and nature for wild camping. I still daydream of those beautiful sunrises and natural surroundings.
On the 22nd August 2019, we finally reached the source of the Maas river in the small village of Pouilly-en-Basigny. For days we had cycled in hot weather conditions of 35 degrees, drinking up to 5 litres of water a day and pushing ourselves beyond our limits. A few meters before the river head a local explained the bad condition that the river had been experiencing in recent years. Indeed, we saw it. The source had just a few drops of water because of the changing climate condition. This was a very clear demonstration of the consequences of climate disaster in Europe. Quietly disappointed Jan and I started from there on the official part of EuroVelo 19 – now northwards.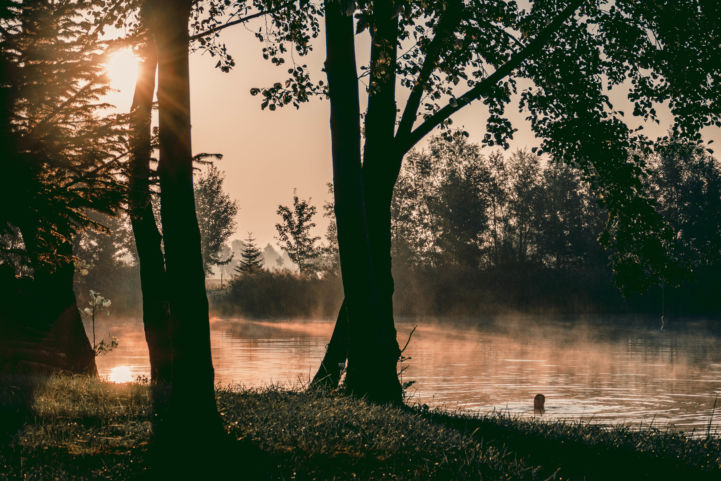 Once we passed the town of Neufchâteau, we entered Domrémy, the birthplace of Jeanne d'Arc. Continuing in the direction of Commercy and Saint-Mihiel, we reached the city of Verdun. This place is sadly known for the huge battle where hundreds of thousands of soldiers died during the First World War.
Definitely the best and most enjoyable part of the journey was cycling about 100km in the Maas valley in the Parc Naturel Régional des Ardennes from Charleville-Mézières to Givet. We particularly loved this last small town located on the French-Belgian border with the little Citadel of Charlemont overlooking it. After all we were finally back in Wallonia, bonjour! Within a few kilometres we cycled into Dinant. It has a glorious setting under the large cliffs and is the town of birth of Alfred Sax. Here we stopped for a recharging lunch break and enjoyable ice-cream in the cold shade.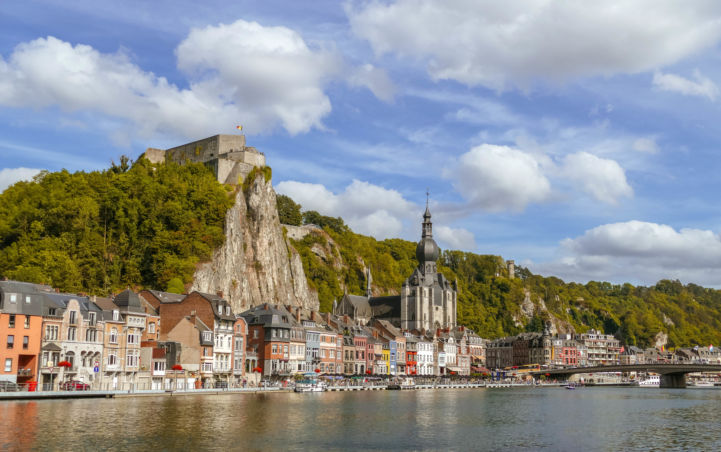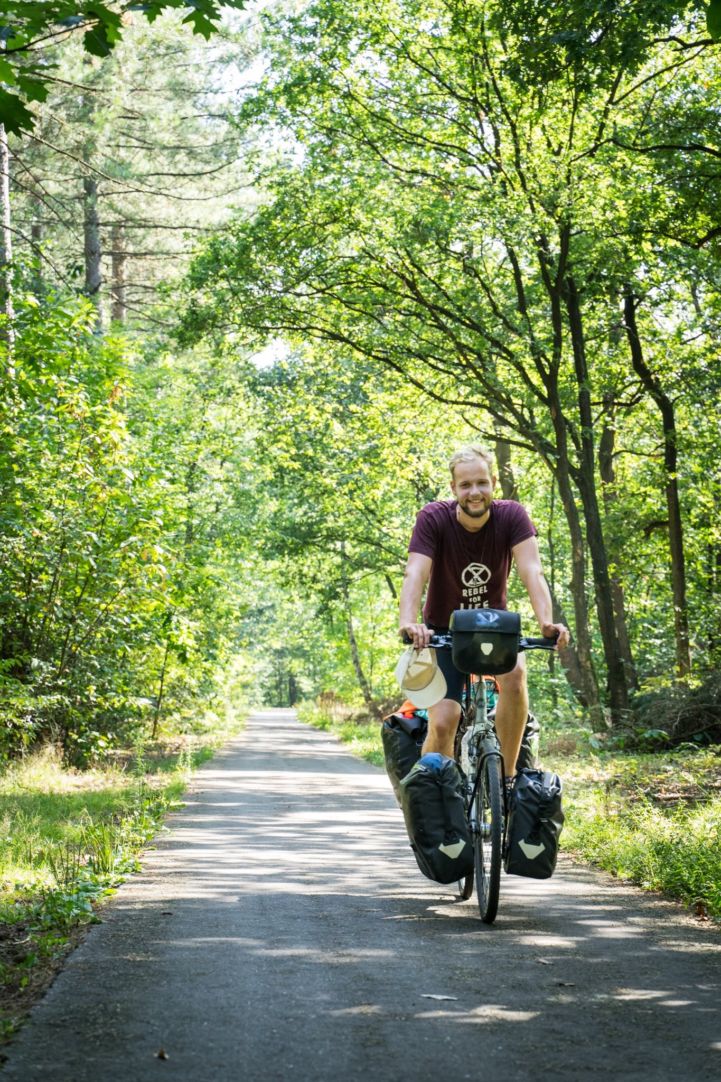 Later on we made it into Limburg where Jan was born – very much a home territory for him. In general the flat terrain there makes it ideal for easy cycling. Thanks to Jan, we made another detour to the lakes of De Wijers, where, right at intersection 91, you'll find a great surprise for cyclists! For further information look up "Cycling through Water"!
Passing into the Netherlands brought me to cycle heaven. Great infrastructure and safe paths to ride bicycles led to good vibes. Cycling the last 20km from Rotterdam till Hoek van Holland you will pass by some heavy industry but reaching the mouth of the Meuse provided a good compensation – staring out over the North Sea!
In a nutshell, the 90,000km of European Cycle Route Network are a great opportunity to discover new adventures. I am looking forward to the next one already!
Follow Lukas as an adventurer on www.bikingboundlessly.com. Besides that he created Bikingboundlessly he has great social media content about responsible tourism on Instagram and Facebook available for all enthusiasts!
All pictures are taken by Lukas Sentner.
Author(s): Lukas Sentner