Back to all
Jill & Florence's Insider Tips: #RestartCycleTourism with a staycation
Thursday, September 17, 2020
This year was a summer like no other. As our plans got cancelled, we had to improvise new ways of enjoying our holidays, often closer to home than originally planned. But new constraints can also give birth to new ideas; and for many of us, including ECF's co-CEO Jill Warren and EuroVelo team member Florence Grégoire, it was the occasion to rediscover our own countries and #RestartCycleTourism on two wheels.
As cycle travelers well know, any region, even those lacking internationally well-known sites, usually has hidden assets that can be unveiled by the bicycle. If you think you know your country, try cycling around it; there's a good chance you'll find out that the roads followed many times by bus or car, and the landscapes often admired from a train window, were concealing paths and tracks that are best explored on a bicycle. Allowing to cover a good amount of kilometers in a day, at a speed no greater than the time needed to take in the landscapes, cycling is a unique manner to feel a country's vibe, understand its rhythm, its culture and its people – and that includes one's own country.
Jill's Staycation in Alsace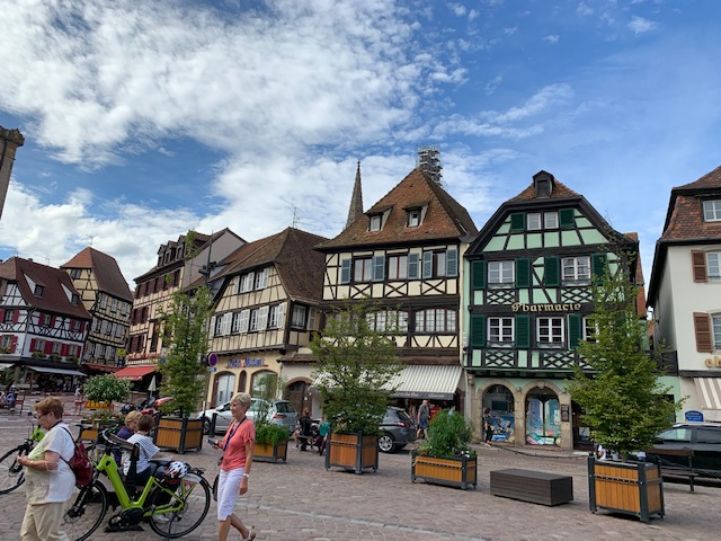 It was the summer of staycations for many people in Europe and I was no exception. Accordingly, this year's cycling holiday consisted of numerous day trips within easy reach of my home in Freiburg, Germany. These included some familiar favourite routes of mine as well as some brand-new itineraries. On several different day trips, I was able to include parts of EuroVelo 15 – Rhine Cycle Route and EuroVelo 5 - Via Romea (Francigena).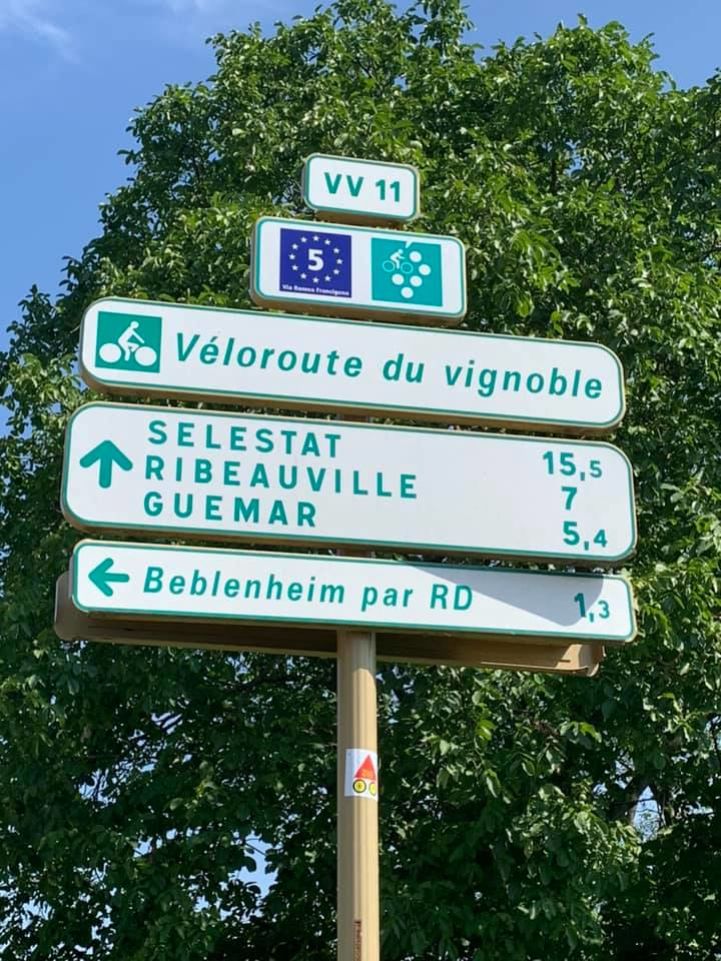 A long-time favourite is an 82km day trip that includes the stretch of EuroVelo 15 in France between Fessenheim and the next Rhine crossing downstream at Vogelgrun. Here the route meanders through quiet Alsatian villages off the beaten tourist path and lots of cornfields. You cycle past everything from massive hydroelectric plants at the Rhine crossings, to colourful half-timbered houses in the villages, to bright yellow corn cribs, and there is even a wartime bunker sticking out of the farmland around Algolsheim.
In the summer, the farmers frequently water the cornfields and their sprinklers drench the cyclists too – not unwelcome when it's 30 degrees or more!
On another day trip, I started in the fortified medieval city of Obernai which is on EuroVelo 5 and the Alsatian Wine Route (Véloroute du Vignoble). However instead of cycling the EuroVelo 5 from Obernai (which I'm saving for another trip), I cycled 20 km east along the D426, through several charming and picturesque villages including Niedernai, Meistratzheim and Schaeffersheim towards the Rhine in order to join the Rhine Cycle Route at the Rhône-Rhine canal near Erstein and head south towards Neuf-Brisach.
The EuroVelo 15 along the canal is a pleasant and relaxing ride on a mostly paved former towpath, which passes many locks and former lock keeper's houses, such as the one at Lock 64 at Artzenheim, which now serves as a canalside restaurant and café popular with cyclists.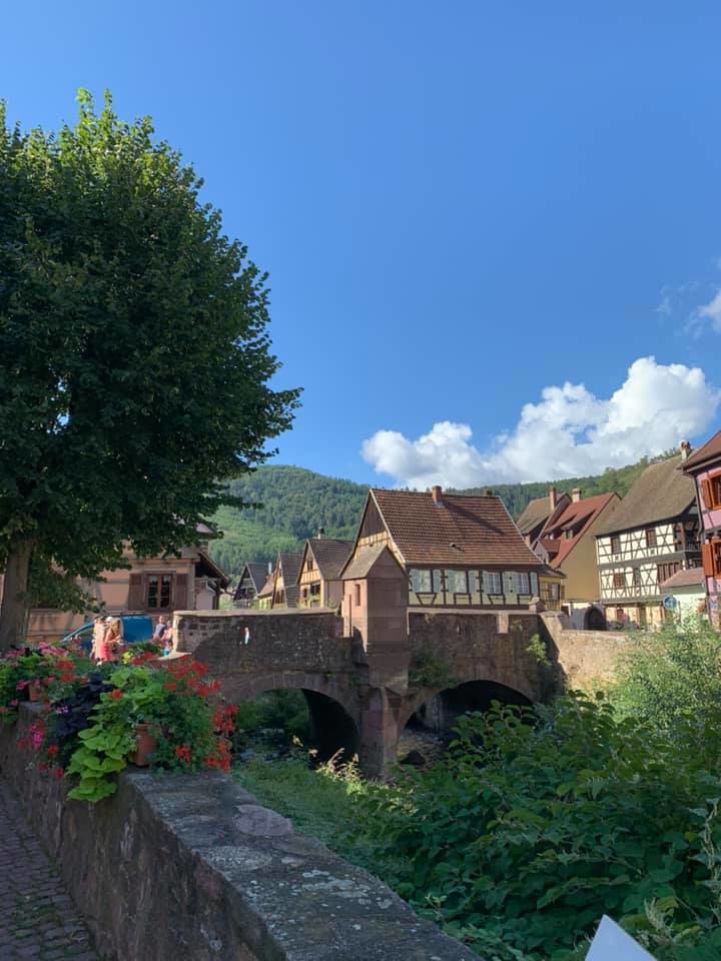 At Artzenheim the EuroVelo 15 leaves the canal and passes through villages and farmland on the way to the heavily fortified town of Neuf-Brisach, a UNESCO World Heritage site designed by Louis XIV's military engineer Vauban. Neuf-Brisach is a great place to take a break, have a drink or a bite to eat, and explore the unique fortifications.
A further day trip exploring the Alsace started in Riquewihr, another "must-see" medieval town nestled in the vineyards on the Route du Vin. From here I headed east and joined the EuroVelo 5 at Beblenheim and went north towards Ribeauvillé (also well worth a visit), before heading east towards the Rhine. This route went through the Alsatian villages of Guémar, Illhaeusern, Elsenheim and Marckolsheim where I crossed the Rhine and followed the German side of the EuroVelo 15 from Sasbach am Kaiserstuhl to Breisach. War history buffs may wish to make a stop in Marckolsheim, where you can visit a Maginot Line fortification left over from the Second World War which has been converted into a small museum. Near the bike paths on this trip I saw many storks, the beautiful emblematic birds of Alsace, either in their huge rooftop nests or out in fields foraging for food.
There is still so much to explore by bike in Alsace, but I'm glad I managed to cross a few Alsatian routes I'd been wanting to try off my bucket list this summer!
Alsace, I'll be back again soon, à bientôt!
Author: Jill Warren
Florence's Staycation on Belgian EuroVelo routes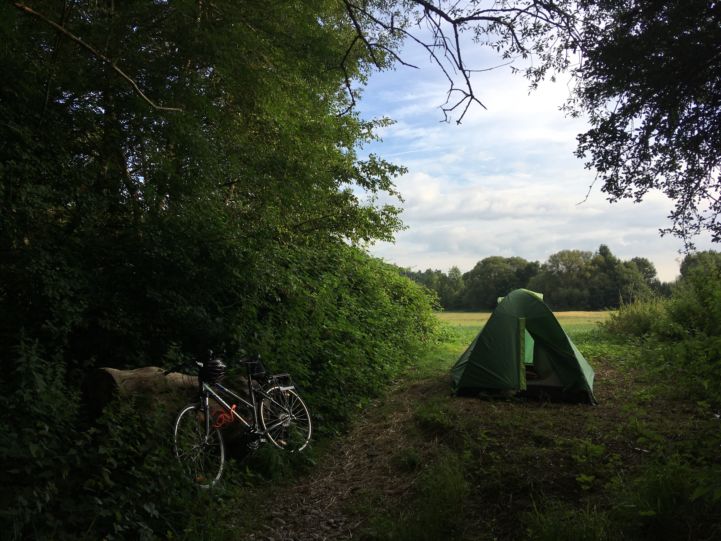 I took the opportunity of this unusual summer to explore my little country on a bicycle. I expected some surprises and was not disappointed: Belgium is neither as small, nor as flat, as a famous song would let us think!
My initial plan was to cycle all around the country, connecting a bunch of EuroVelo routes, Rando Velo and RAVeL paths in Wallonia and LF-Routes in Flanders to create an itinerary that would take me to all regions I was curious about. But soon I realised that kilometres pile up very quickly and I had to make choices if I wanted everything to fit into my 10 days trip! I finally opted for a ride that took me from Tournai to Hotton, including parts of EuroVelo 3 – Pilgrims Route, EuroVelo 19 – Meuse Cycle Route and EuroVelo 5 – Via Romea (Francigena).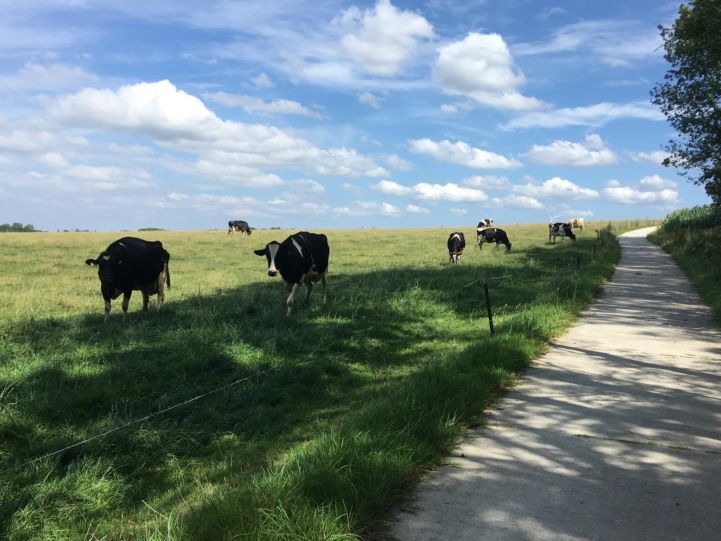 The first highlight of my trip was the stretch of EuroVelo 3 from Erquelinnes to Thuin on the Sambre RAVeL. Having lost some time that morning to fix a flat tyre and get a spare inner tube, I cycled these 20 km in the sunset – and this turned out to be an amazing time to do it. This popular section was less crowded that during the day, a valuable element as I was also hurrying to get to my Welcome to my Garden hosts of the night at a decent hour; but it was the sight of the declining sun sending its golden rays on the peaceful Sambre River that made this ride magical. I saw my cycling shadow becoming taller and taller as I was grasping the last glimpses of sun in the pink and purple sky. I finally got to Thuin, a charming town with a UNESCO belfry from the 17th century. There is a train station in Thuin, so you can easily discover this section on a day trip, or cycle from Charleroi!
A few days later, I crossed a region that isn't part of the EuroVelo network, but that I cannot omit here because it is the most beautiful one I visited in my trip: the area of Chimay, Couvin and Viroin in the south of Belgium. Cycling from one village to another, I did a lot of ups and downs while discovering some amazing places, such as the natural reserve of the Fourchinée pond near Seloignes where I luckily arrived to at lunchtime, and the Village of Nismes in Viroinval, whose "Black Water" River full of plants and ducks amazed me. This region offers several free bivouac areas and I enjoyed a night in the forest near the village of Forges. I definitely advise cycling on the L523 RAVeL: this old local railway line converted into a cycle path crosses the Viroin-Hermeton Natural Park until Oignies-en-Thiérache, an isolated village lost in the woods. You'll get your share of rocks, caves and conifers!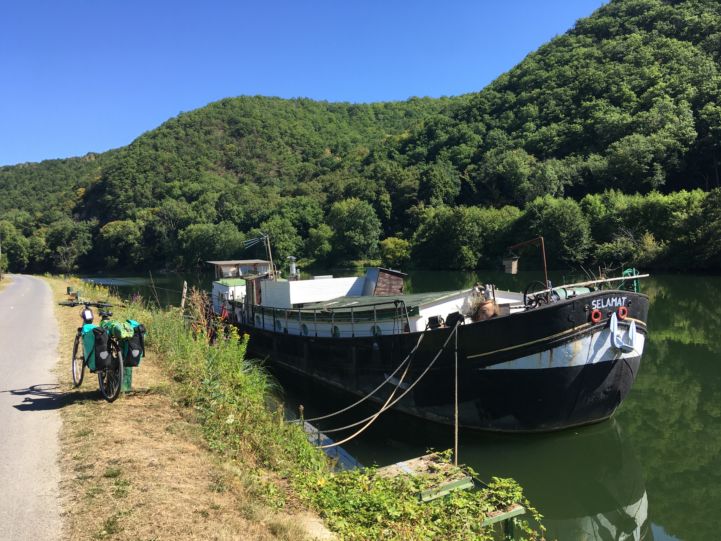 Next in line was EuroVelo 19 – Meuse Cycle Route from Fumay, in the French Ardennes, to Dinant. The little town of Fumay, surrounded by a meander of the river, has a peculiarity: the houses are numbered according to their distance to the beginning of the street; house n°193 means that it is situated 193m from house n°1, even if there are far from 193 houses in that street! My Welcome to my Garden host in Fumay brought a great end to a long day of cycling by offering me home-made pizzas and an additional floor blanket for my tent. I then cycled my EuroVelo 19 stage on a very hot day (more than 35°C) so the presence (and flatness) of the Meuse River, its picturesque boats and riverside cafés were a pleasant refreshment. After a detour in the Hermeton Valley – that I advise visiting, but on a colder day – I reached Anseremme and Dinant, where impressive rock formations can be admired along the river. A change of scenery is guaranteed if you've cycled in the North of Belgium before!
From Dinant to Hotton I cycled on EuroVelo 5, adding a visit to Rochefort and the famous Grottes de Han. The differences in elevation in this part of Belgium made a contrast with the riverbanks, but the climbs were rewarded by beautiful views on the surrounding valleys. It was a ride through nature and countryside, ancient Walloon villages and many breeds of cows. Once again, I spent my evening cycling after the visit of some caves and admired the sun setting on the fields. I reached the nice little town of Hotton in the clear summer night, under an almost full moon, for a last night of camping near the Ourthe river.
Author: Florence Grégoire