Back to all
New EuroVelo 19 - Meuse Cycle Route flyer now available
Monday, February 8, 2021
The flyer features general route information and a large map with various highlights, now under a refreshed EuroVelo branding.
Dreaming about cycling in the serene French Ardennes or the Dutch Maasduinen landscape? Or planning to cycle along the banks of the Meuse in Dinant? Grab your handy digital copy of the new flyer now. The Meuse Cycle Route flyer is a great addition to the growing collection of resources available for EuroVelo 19, which according to recent statistics is among the most popular EuroVelo routes.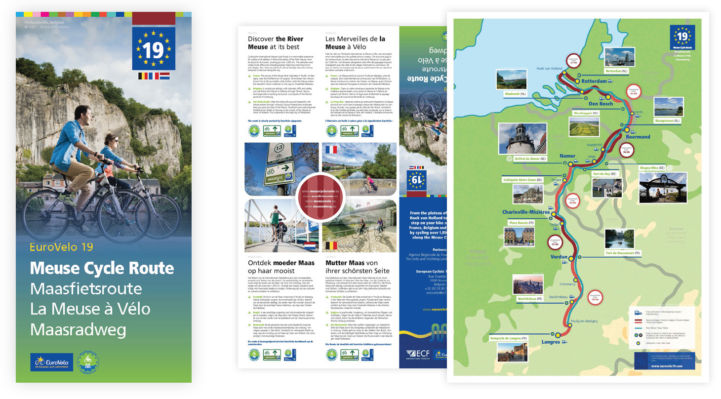 On the front side of the flyer, you can find a short description of the varied scenery, including cultural heritage sites and other charming attractions, to discover and explore along the Meuse in France, Belgium and the Netherlands. This side also features useful signing and contact information.
The main feature of the flyer is the stylised map encompassing the entire back side. The route here is broken down into different stages with distances, main settlements and train connections shown. Along the itinerary, there is a selection of points of interests (including UNESCO sites) illustrated with beautiful images courtesy of our regional partners.
Finally, all this is neatly presented in a new design following the updated EuroVelo corporate design package (more to follow on that in Spring on our website for professionals).
Going forward, this flyer is the first in a series covering other EuroVelo routes as well. And if you are looking to get your hands on a printed copy, they will be available at some of the bigger EuroVelo events in 2021 and they will be distributed at the local and regional level by partners later in the year.
Author(s): Omer Malak