Back to all
ES
Going upstream - by RawCandyRides (2/3)
Thursday, June 15, 2023
In April, we shared the first part of Birgit's adventures along the Portuguese section of EuroVelo 1. In this second part of the trilogy, you will find out how Birgit cycled on EuroVelo 3 - Pilgrims Route and the Caminho, in the opposite direction than the flow of pilgrims going to Santiago de Compostela.
At the end of her last article, we left Birgit at the border town of Tui ready to leave Portugal and say hello to Spain.
This line in the sand.
It still blows my mind to this day (after 42 border crossings by bicycle with plenty more to go) how much everything changes; when all that is actually different are the attitudes, traditions and cultures. Underneath, we are all the same, with the same needs and love.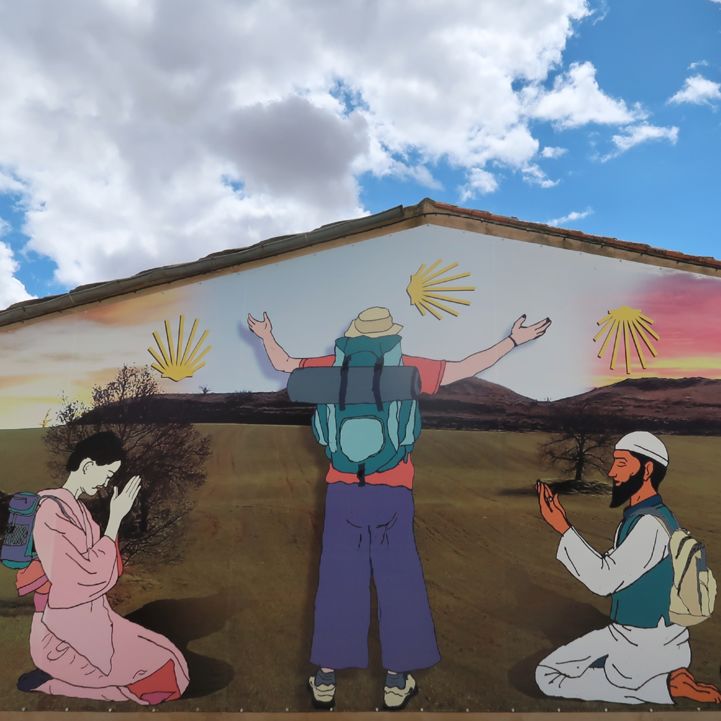 Sometimes the drama reveals itself as fortuitous.
I had cycled up from Lisbon inland along the Caminho Portugues, mostly along EuroVelo 1 - Atlantic Coast Route. Now the pandemic pushed me inland to the Spanish border town of Tui onto a bridge over the river Minho, as the ferries across weren't operating yet.
After a short 10km north, one of the most gorgeous old-timey stretches of ancient worn stone paths and bridges, surrounded by intense quiet - and nature left to self-nurture - revealed itself. The air had a completely different electricity and freshness to it. I felt transported back in time when a cleaner, simpler way ruled. Just imagine our world without any fakery. Exempt of all manmade sounds, artificial sights, and chemical smells. My eyes, ears and lungs opened wide. I found a spot so magical that after a day lying on ancient pathway rocks by a bubbling stream under a lush canopy of varied greens and reading*, I felt total blissful zen.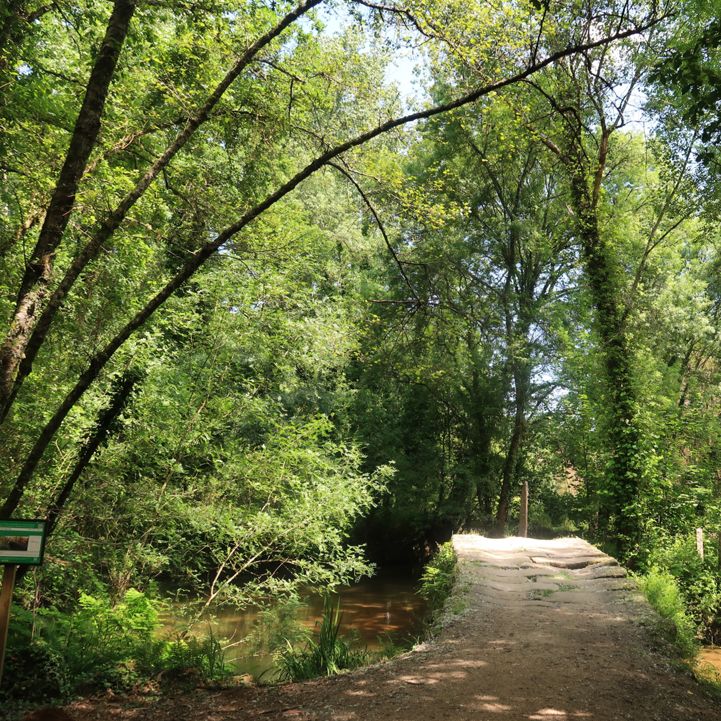 I cycled on (as we are programmed to do when we have to 'get' somewhere) in the late afternoon. A mere 3km in, I missed the intensity of what I had experienced all day and sheepishly chucked a U-ey. I ended up setting camp a stellar 100m from where I had camped the night before. Never have I ever...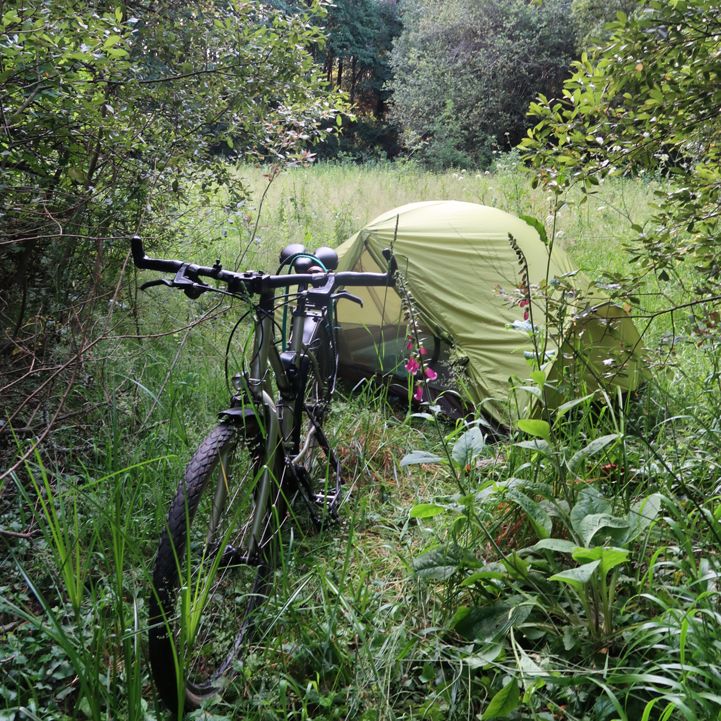 Gratitude in smells, sights, feels and yums.
As well as the best vegan healthy doughnut ever (thanks forever Pumpernickel Bakery) in the town of Pontevedra, the following omg's emerged at regular intervals: picturesque villages, magical spring water from the endlessly available fountains dotting the Caminho into Santiago, beyond gorgeously gorgeous varied paths (zero repetition here!), dreamy remote vineyards and to top it all off, cute café culture was back.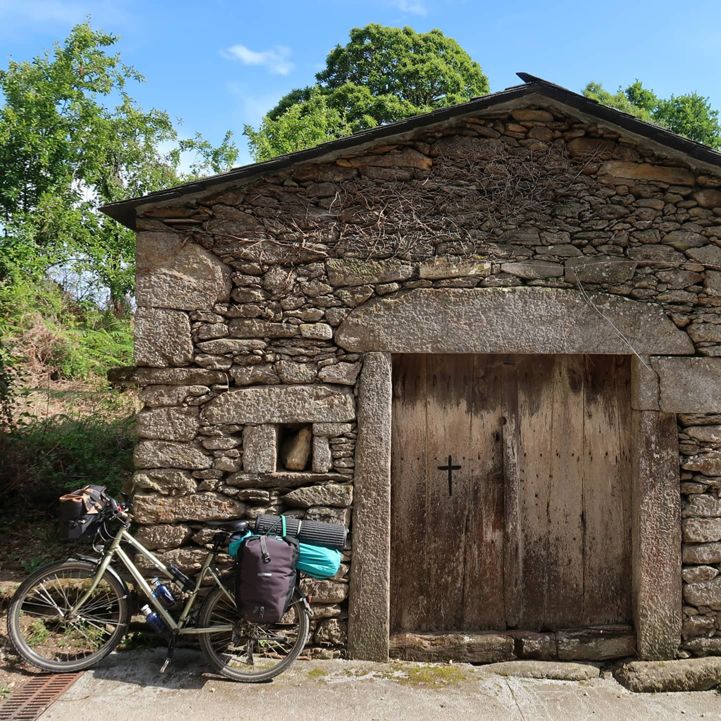 So too, was an elevated abundance of fresh food, including that magical rainbow of fruits (nature's candy, aka raw candy!). Ahhh. Would Spain be my happy place? Short answer: No. But feel free to read on.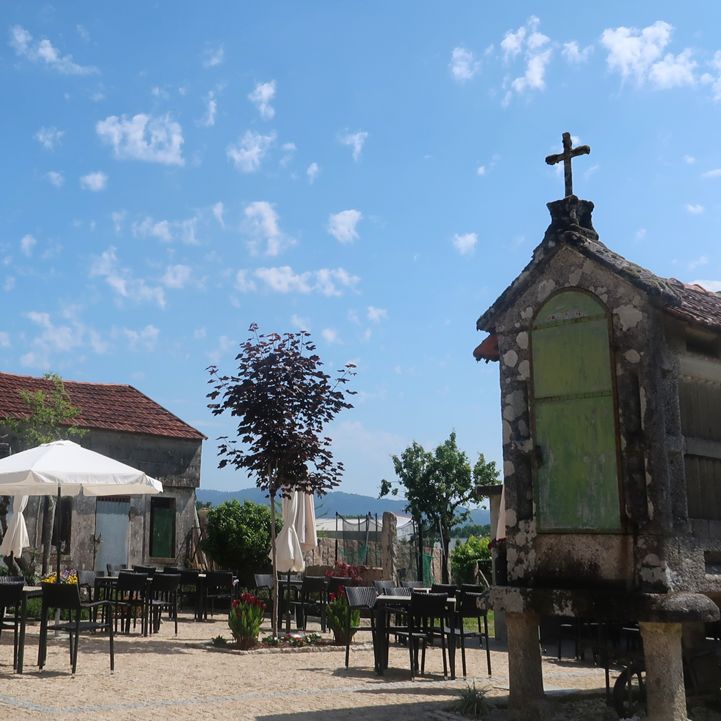 Rules. Rules. Rules.
Masks were everywhere (May/June 2021), even at an outdoor restaurant table, waiting for one's food. The only exception was me while riding my bicycle (Pilgrims hiking through villages were expected to wear theirs too) and a couple scandalously eating ice cream on the steps of a local church. Spain had an insanely panicky mandate that masks be worn by everyone, everywhere, all the time. The paranoia was palpable, and the police were everywhere.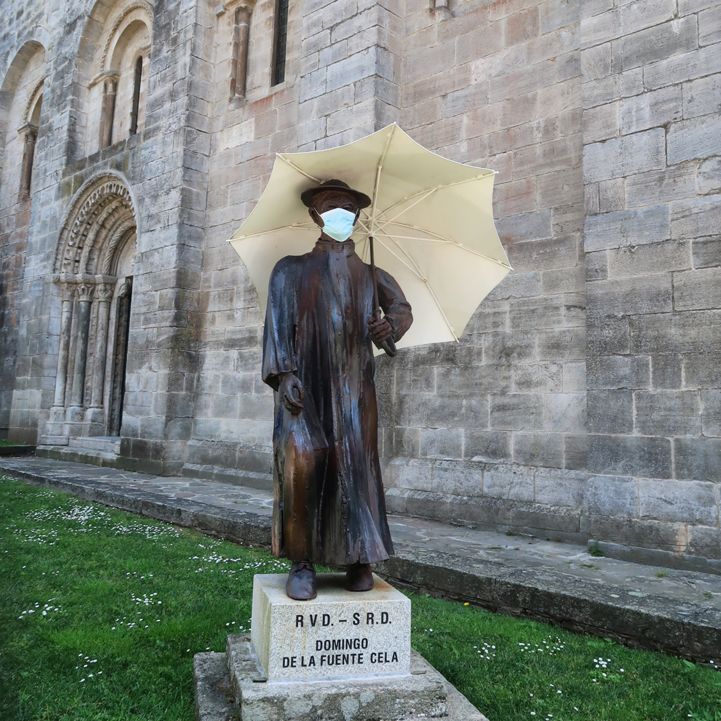 Turns out, the best bit was before it even started.
Got to say, the 118km from Tui to Santiago would reveal themselves to be the most gorgeous. The last kilometres into Santiago not so much, but... this kind of pilgrim-route-magic would not be repeated on the 790km Caminho Frances from Santiago to Pamplona and up to the top of the Pyrenees, where Spain ends.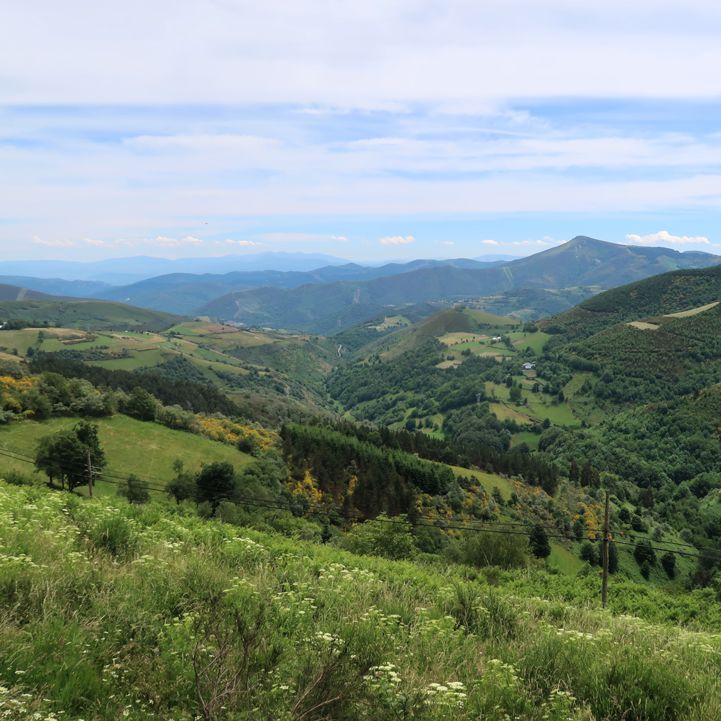 If you don't believe it, you can't feel it.
After 650km from Lisbon, the famed Santiago de Compostela cathedral and pilgrim office were pandemic-style closed. After resting in an almost empty town square (usually rammed with pilgrims and tourists), I set off unimpressed, shrugging my shoulders towards France.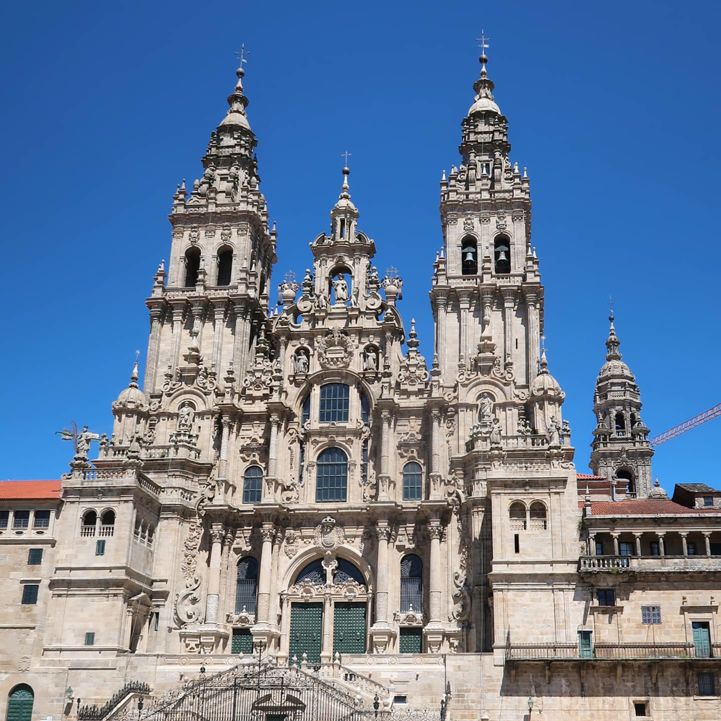 Clearing the city of Santiago, the zen returned on the outskirts, and I realised my Caminho Frances inland route would be more challenging than 'just follow EuroVelo 1 - Atlantic Coast Route and EuroVelo 3 - Pilgrims Route all the way'. The hikers had the prettiest way, by far. Shaded too. And if a cyclist is willing to struggle over everything nature can throw one's way on two wheels, then a mix of the hiking pilgrim route and nearby mostly tarred EuroVelo (sometimes they would merge anyway) is the most fun. That is if you prefer shade, remote lush greens, and a challenge interspersed with the odd whoop whoop cooling smooth, speedy downhill. It was balkingly hot. The tar was melting. It was early summer...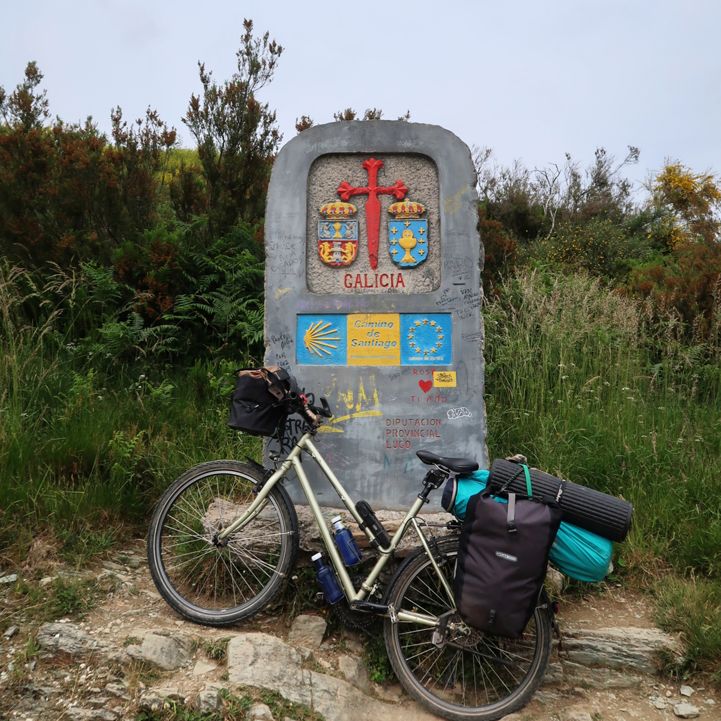 Reality bites.
Unfortunately, few of the Caminho tourist targeted cafés (tea and charging my devices!) were open, and 124km on, at the abbey of Mosteiro de San Xiao de Samos, the crowds and the MTB-clad day cyclists vanished. It is there, too, that all beauty abandons the Caminho, and it becomes a quest. A grunt. A challenge. And if you're blind enough to still want to 'do it' by bicycle, well then, you're in for a treat, and usually at different times to the hikers. What looks fun on foot is a continual struggle (surface/inclines/whatnot) for a cyclist, and what seems blandly tedious for a hiker is an easy fast (was it really that ugly/boring for so long?) swoop for a cyclist.
Finding gems in the dirt.
If I were the type to eat meat, it would be the seemingly blissed-out healthy-looking cows of the Caminho. Never before have I seen such smugness and peace on a cow's face. If, however, I was a dog, the short chains and endless barking at hikers would drive me to madness.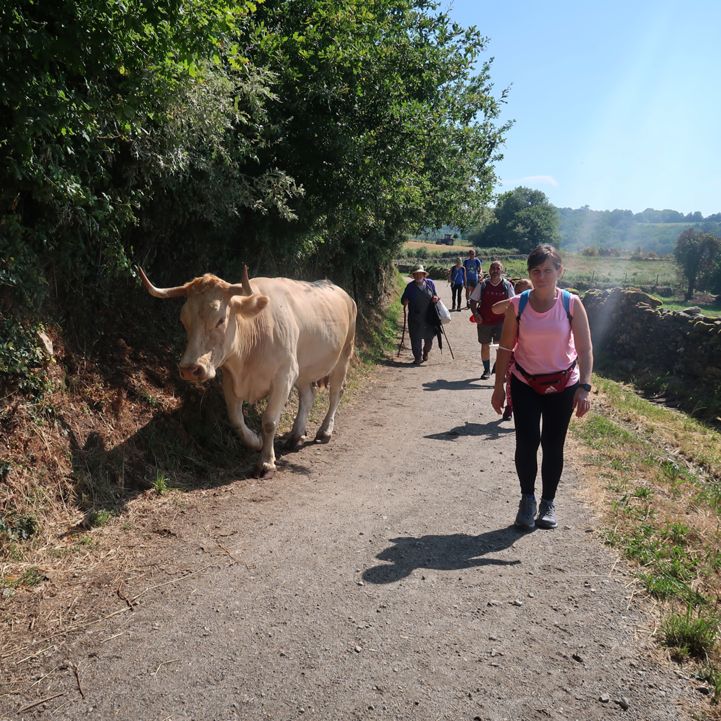 This Caminho's extra specialness comes in the camaraderie from fellow hikers. I saw them all. When you hike the right way towards Santiago, you might overtake or be overtaken by a few and hang out exhausted in the evening's accommodation with those nearest and (hopefully soon) dearest. If, however, you are the butt of many a Caminho joker ("Caminho contrar! Ahahaaa!") because you're going the wrong way, you will be endlessly entertained by one and all, with a squillion "Bom Caminho!!!", which later morphed into a gentler "Bonne Caminho" the closer I got to the eastern edge of Spain. An added bonus was that the usually strict no-wild camping rules weren't being enforced. Plenty of Pilgrim picnic rest stops became my home for the night when a bush or orchard was out of reach.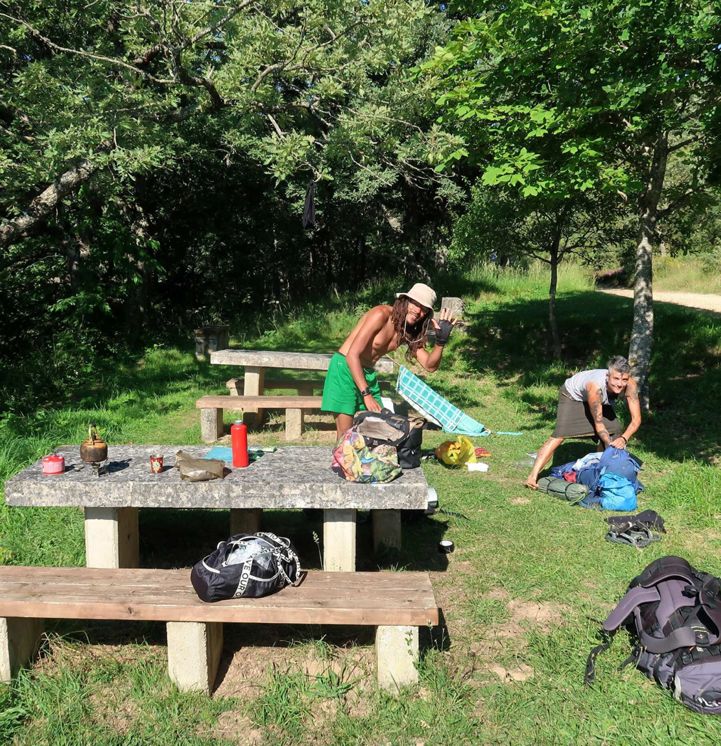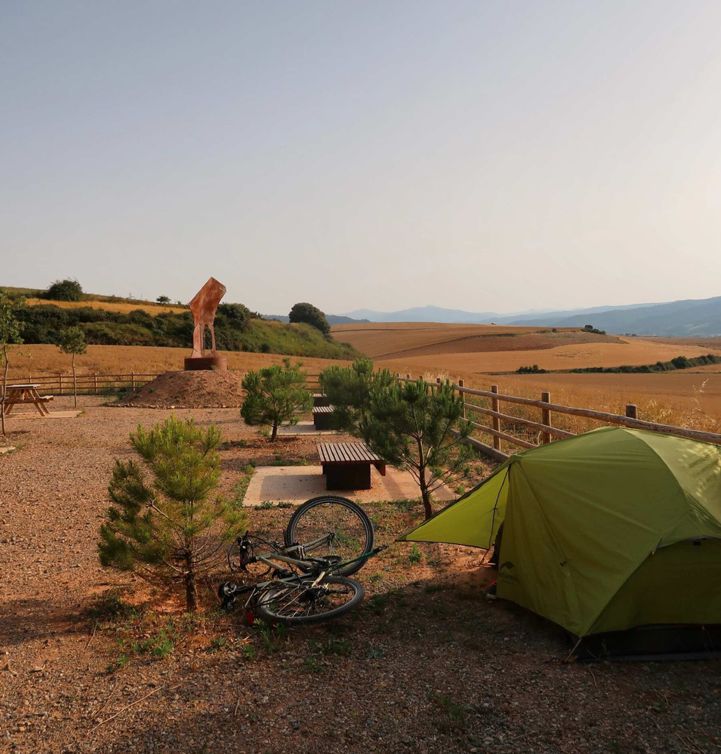 Variety is the spice of my life.
Seeing Spain change from lush to arid, to colourful, to cranky, to rocky and wheat-y was fast-ish enough by bicycle. I would have dreaded to be stuck schlepping my luggage at max 5kms an hour on foot for most of it. There are far, far prettier long-distance hikes than this one popularised by an enterprising politician in the '90s. It was, however, the best way to get back east during a pandemic year, as Spain doesn't allow bicycles on their trains that go the distance. If you can pack your lean racing bike into a skinny bike bag and carry all your stuff, sure. But my bicycle weighs in at 17kg of tough can-do-anything-forever steel and is too large for a skinny anything. And imagine carrying an extra 15-20kg of gear along endless platforms, stairs, and train station halls. Yup, I'd rather cycle all the way.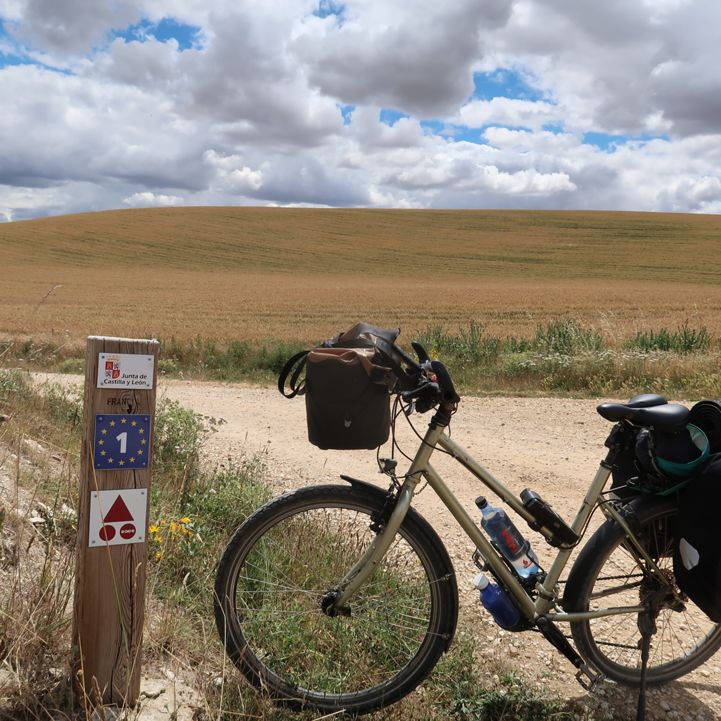 You make your own luck, they say.
I had the great 'luck' of being in the foodie-refuelling cities of León and Pamplona on everything-is-closed Sundays. And many villages and towns were enjoying an hours-long siesta, just when I arrived triumphantly expecting grand opportunities to buy fabulous Spanish cuisine. Pah! Siesta forever. And still, I managed just fine, but not as fabulous. With a bicycle, even if struggling along some abominable ways at steep inclines of the two-steps-forward-and-one-slide-back kind, I was still fast enough to get to where at least some food was.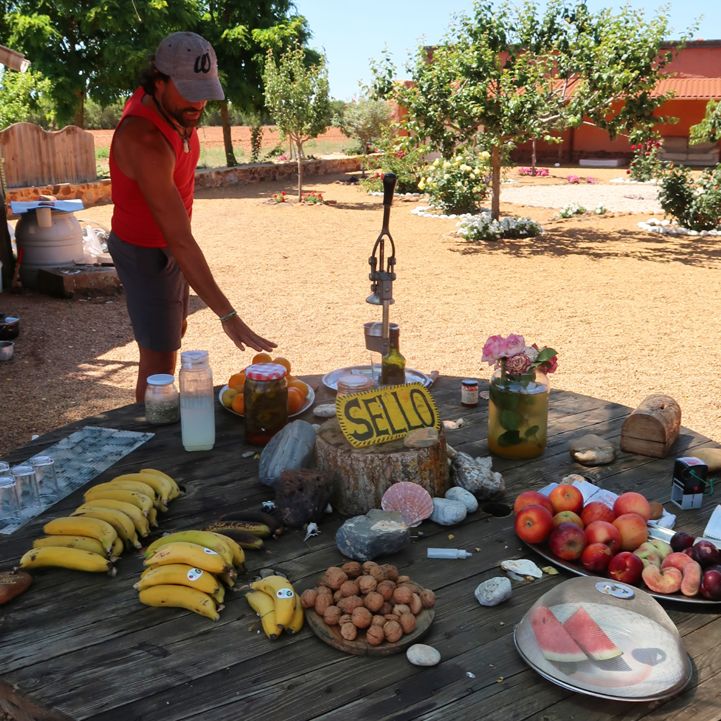 Opposites attract.
And if you are rebellious enough to do things back to front - for fun - and for the fantastic endless cheers-masquerading-as-greetings, be aware that the pilgrim signs aren't. And at times, swimming against the stream might get tricky, especially during the more crowded non-pandemic years. So if you must cross Spain by bicycle, I highly recommend mixing the way between EuroVelo and Pilgrim and enjoying the best of both worlds. It will be challenging in some 'hikers only' stretches, so take your time and enjoy the suffer fest. I did.
Life in numbers.
In spite of the pandemic and many border closures, 178,912 pilgrims arrived in Santiago de Compostela in 2021. I was not counted. And 54,144 braved it in 2020! The recent record was in 2019, with 347,598. In May/June, after the first 124km from Santiago, I found very few were doing more. And if you're curious about how many solo women hike it, quite a few. The resounding response was a feeling of safety being on a popular 'catered for' route. Not too wild, but still wild enough. The biggest worry seemed to be perception. What would people think? Which is when I peppered them with encouraging tales of many of my safe-ish enough, totally fun, and adventurous far-away solo jaunts. They were meant to inspire, although at times seemed to horrify. Hah. There is much work to be done in empowering all to go solo; everyone else's blah-blah be damned. Nothing is as hard as we think. Just take baby steps!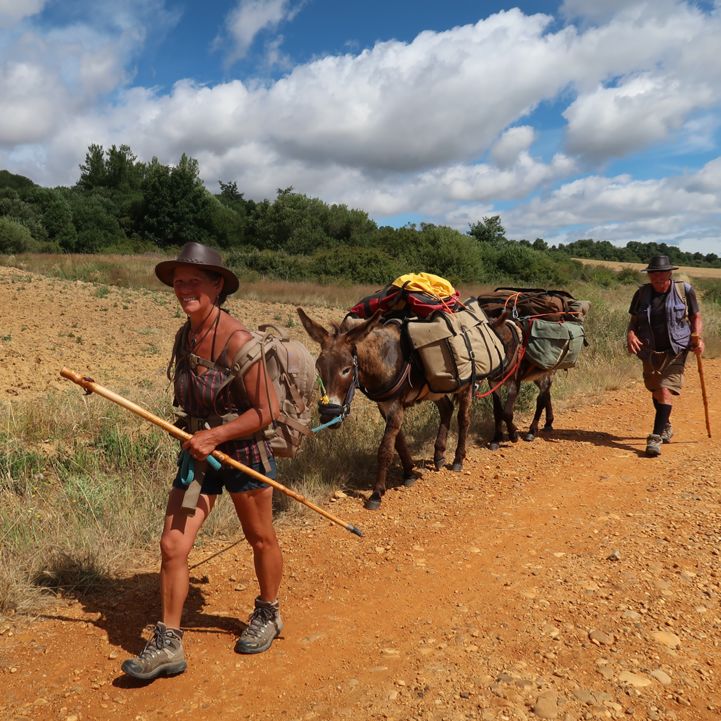 Book advice by Birgit
Humankind by Rutger Bregman. If you want to know the reality of the amazingness of us as humans, I highly recommend this book. You will never be affected by the drama and fear mongering of the news and Western culture the same way again.
Factfulness: Ten Reasons We're Wrong About the World — and Why Things Are Better Than You Think by Hans Rosling. Obama and Gates called it essential reading. Good enough for me, and yes, even optimistic me lowballed the progress. Let's all drop our negative global misconceptions, either by travelling far or by reading smart.
Find my tales of woe (soz, there aren't many) and fun aplenty on Instagram.
Next up: EuroVelo fun from the top of the Pyrenees along the astoundingly gorgeous French Western coastline.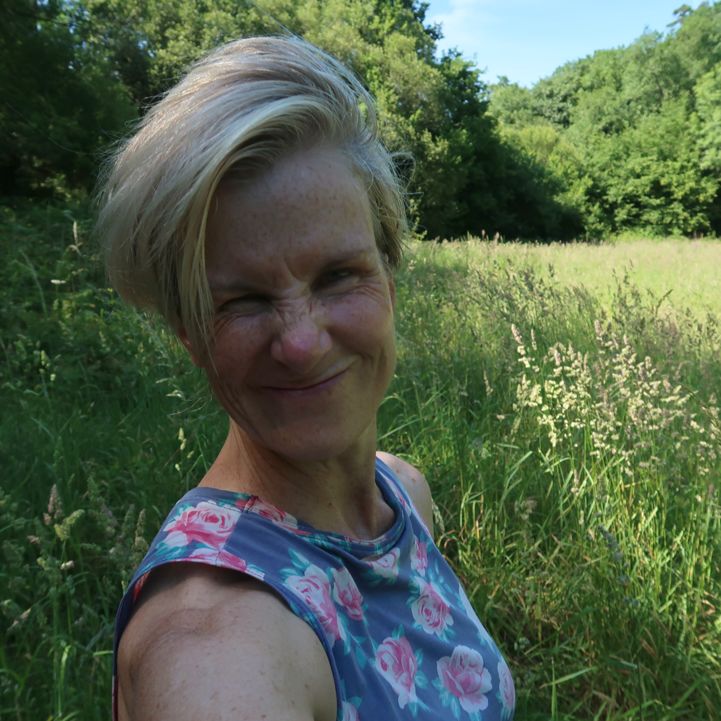 Author and pictures: Birgit, aka RawCandyRides