Back to all
New EuroVelo 15 - Rhine Cycle Route flyer now available online
Wednesday, March 10, 2021
Planning to cycle the fully certified EuroVelo route which goes through the Swiss Alps to the Alsatian countryside and Middle Rhine Valley, all the way up to the North Sea? Grab your handy digital copy of the new flyer now.
The Rhine Cycle Route flyer is an update on the previous flyer available for EuroVelo 15, which according to recent statistics is the most popular EuroVelo route!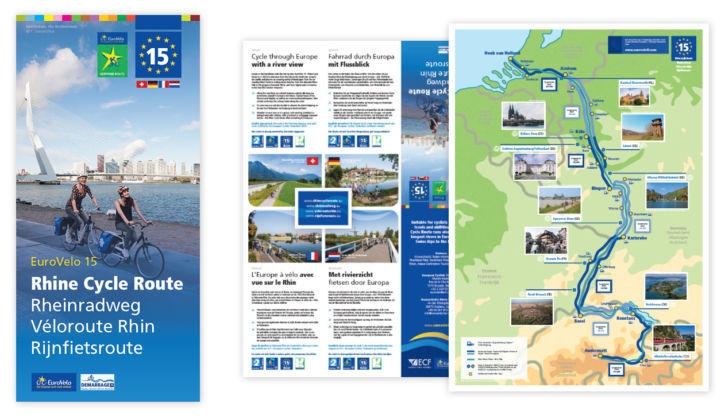 On the front side of the flyer, you can find a short description of the varied scenery, including cultural heritage sites and other charming attractions, to discover and explore along the Rhine in Switzerland, France, Germany and the Netherlands. This side also features useful signing and contact information.
The main feature of the flyer is the stylised map encompassing the entire back side. The route here is broken down into different stages with distances, main settlements and train connections shown. Along the itinerary, there is a selection of points of interests (including UNESCO sites) illustrated with beautiful images courtesy of our regional partners.
Finally, all this is neatly presented in a new design following the updated EuroVelo corporate design package (more to follow on that in Spring on our website for professionals). This flyer forms part of a new series covering other EuroVelo routes as well, such as EuroVelo 19 – Meuse Cycle Route. The printed copy of the flyer will be made available at a later stage.
Author(s): Omer Malak