Back to all
NL
EuroVelo 15 - Rhine Cycle Route – A story about falling in love with cycle touring
Tuesday, May 11, 2021
This is the story of Mat and Harriet, EuroVelo users, and how they fell in love with travelling by bike. The idea of cycling across whole Europe seemed fascinating, and they decided to follow the EuroVelo routes all the way from their home in London, UK, to Turkey. This was only possible thanks to a perfect combination of routes. As beginners, getting started on EuroVelo 15, and cycling along the Rhine made them feel confident about their cycle touring skills. Once they had cycled the EuroVelo certified route, as newly empowered cyclists, they felt prepared for whatever challenge the journey might have in store.
"Most days you'll see the time fly by as there's just so much to see and you never really know what's around the next corner. Each day is so different to the next.... In our eyes it's just the most amazing way to travel."
Mat and Harriet's trip along EuroVelo 15 led them through diverse landscapes and charming towns filled with friendly encounters, all along the Rhine. They have documented their trip on a video available online to share their experiences with the world and invite other travellers to explore Europe by bike using EuroVelo routes. This article details Mat and Harriet's love story with cycle touring, whilst getting to know the Rhine Cycle Route better through Mat's and Harriet's own eyes!
A good start for novice cycle tourers on EuroVelo 15 – Rhine Cycle Route
Over the hot summer of 2018, we took the opportunity to combine three of EuroVelo's long-distance cycle routes to pedal from London to Istanbul. While deciding how to cross Europe, the way-marked directions, established guidebooks and extensive coverage of the EuroVelo network were particularly appealing. As novice tourers, we liked the idea of sharing the route with other cyclists and using the facilities which have been set up along the way. We followed three routes – EuroVelo 15 – Rhine Cycle Route along the Rhine from mouth to source, the middle section of the Danube on EuroVelo 6 – Atlantic-Black Sea, and the southern section of EuroVelo 13 – Iron Curtain Trail, which is under development. These took us to bustling cities such as Basel and Belgrade, through rugged countryside in western Germany and the Rhodope mountains of Bulgaria and kept us on track to Turkey.
When reaching the first EuroVelo signpost at Wijk bij Duurstede in the Netherlands, we felt comforted as from there on we could simply follow the EuroVelo 15 signs and this meant we would get to Switzerland eventually. Wijk bij Duurstede is also home to the world's only drive through windmills, a sight that had to be discovered by bicycle. After cycling through the UNESCO heritage Middle Rhine and the Rhine Gorge, which felt as one of the most enjoyable sections of the Rhine Cycle Route, we arrived in Bonn, the birthplace of Beethoven. We decided to do a little side visit to the coldest water Geyser in the world, the Andernach Geyser, before we reached the picturesque town Rüdesheim, famous for its Germania statue.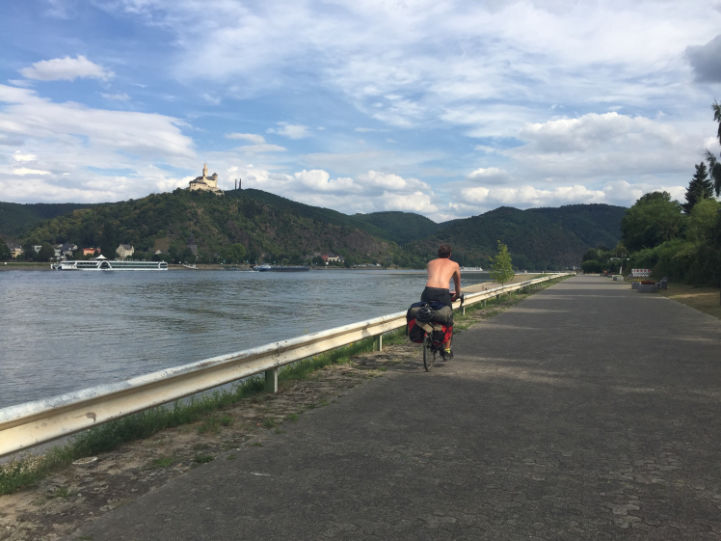 Following the route, we entered France via Strasbourg and continued South through the wine-growing region of Alsace, also known for its Riesling wine. As soon as we reached the border shared by Germany, France and Switzerland, we followed the intersection of both EuroVelo 6 and EuroVelo 15, leading to the most powerful falls in Europe, the Rhine falls. Definitely one of the highlights on the Rhine Cycle Route! Soon, we continued our trip passing several wooden covered bridges, just to end up in the medieval town Stein am Rhein, which hosts beautiful painted frescos. From there only lake Constance and a short stopover in Bregenz, Austria separated us from the last stop on the EuroVelo 15 at the source of the Rhine in Switzerland.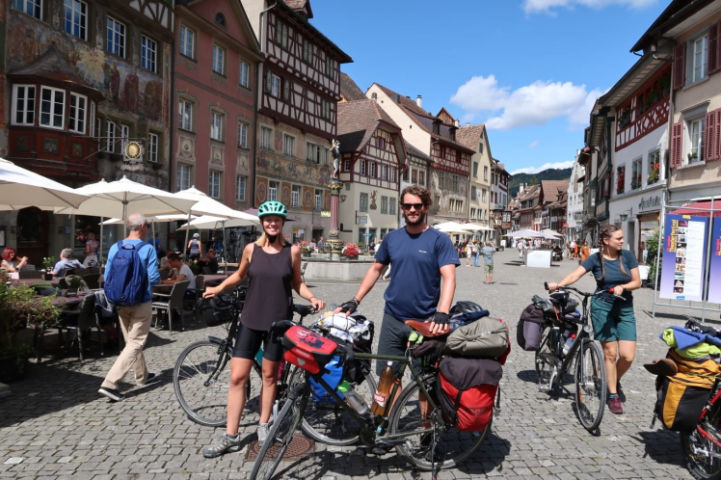 The dedicated cycling routes of the EuroVelo network, in particular the EuroVelo 15 – Rhine Cycle Route, were the perfect way for Mat and Harriet to start with cycling touring, allowing them to adapt to long days in the saddle and build up the required fitness, knowledge and confidence needed for cycle touring.
Following the trip all the way from the North sea to the Mediterranean and Aegean seas
EuroVelo officially rates their routes in terms of development, with the Rhine being the most established (meaning plenty of signposting and segregated paths). This was a brilliant introduction to cycling in Europe for the two of us and for the most part navigation was easy and the going was smooth - as one of the flattest routes on the network this truly could be completed by anyone (we covered Amsterdam to Chur in 3 weeks including breaks).
Germany's signage for both EuroVelo and local cycle networks were superior to others, and we found the first half of the Danube section from Donaueschingen to Bratislava straightforward to follow. Once in Hungary, signs were less regular and we did need to plan ahead so we didn't lose the route, but also so we knew we'd be able to reach the next campsite or budget accommodation; Cicerone's two guidebooks for this segment were invaluable.
The Iron Curtain Trail between Romania and Greece is still officially in planning stages but this was to be expected - investment in cycle routes isn't a real priority in these countries and numbers of visitors are significantly lower (for now!). It was reassuring when we did come across a EuroVelo sign, knowing we were still on track and many cyclists had been this way before. We had originally planned to follow the Danube route all the way to the Black Sea, but felt the fascinating history and landscapes of countries we'd never had a chance to visit before would be more interesting. We did turn to Google Maps regularly in countries where we had free internet, but we did stick to EuroVelo 13 as we'd gained so much confidence from following the Rhine and Danube paths. On this section we faced our biggest climbs, cycled through empty countryside and along dusty highways, and were glad we had the experience and fitness by this point.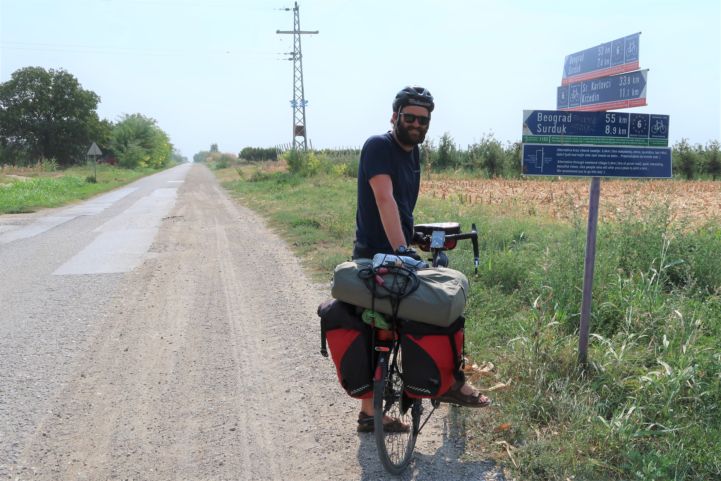 We fell in love with cycle touring on this trip, made simple by EuroVelo's cycle routes. We were fortunate to have only 5 days of rain in 100, but we did experience sweltering days in endless corn fields in July and then frosty morning and biting winds at altitude in October. The route gave us a chance to meet all types of cyclists, as well as American geologists in a Serbian bar and welcoming YouTube contacts who showed us around Budapest. Something we didn't expect was the memorable events we chanced upon. In Strasbourg we sampled delicious Tarte Flambee and regional Alsace wine, and the spectacular music and light show which runs through the summer months projected onto the cathedral and Vaughan dam. In Liechtenstein, we took the most stunning hike along the Princess Gina trail on what turned out to be the country's National day (15 August) and were able to spend the evening celebrating with locals below the impressive royal castle. Later on, we found recommendations online from previous tourers who had passed through Negotin, Serbia about a brilliant guesthouse run by Bojan, and found ourselves staying an extra day to play tennis on their court and rest our legs in a comfy room. We were lucky with these experiences, but the EuroVelo routes link such interesting and different countries, places and people that you'd find it hard not to come across some memorable surprises on any tour.
It has been nearly three years, and we now have a new challenge coming up - we're expecting our first child in a couple of months' time. Mat is working hard to edit and complete his latest series of video guides about our tour, found on YouTube, and we might have to hold off on longer cycles for a while. The EuroVelo 1 - Atlantic Coast Route has always appealed us, and the newer EuroVelo 19 – Meuse Cycle Route would be a great trip for us to do as a family in the future, absolutely inspired by the tourers we saw with kids panniers, trailers, breastfeeding mums and everything else that comes with being adventurous parents. We hope we will be able to inspire our next generation of cyclists to travel in this slow, exciting and sustainable way in the future and we hope we might have inspired you to think about your first - or next - cycle tour along Europe's amazing cycle routes.
Find out more about Mat's and Harriet's cycling tour across Europe, including advice on routes, equipment, food and costs, by following their blog, instagram and youtube channel.
Text and photos: Mat and Harriet Hall