Back to all
News
Diversity in cycling tourism: Is travelling by bike possible for all?
Monday, August 30, 2021
The image of the typical cycle tourist - a wealthy white male in his late 40s - still dominates many cycling magazines, books and websites. But cycling tourism is an activity that can welcome diversity. Its benefits for personal wellbeing alone should make it attractive for everyone regardless of their age, physical condition, abilities, gender, socio-economic status.
Even if cycling tourism has all this potential for inclusion; however, it is unfortunately still not as inclusive and diverse as it could be. Efforts towards making it more accessible are being made around the globe. In this article we want to showcase some inspiring initiatives and examples of people who have overcome adversity, so those that come in their footsteps (or tire tracks!) can enjoy the benefits of travelling by bike. Stories of self-improvement, generosity, diversity, and community show that we can go far with the right gear, support, and environment!
By making travelling by bike accessible for all ages, capabilities and budgets whilst simultaneously generating more inclusive societies, #MoreCyclingTourism can help to take care of our wellbeing and that of our society.
Cycling for all ages
From 10 months to 108 years old, two extraordinary stories show us that there is no such thing as a "cycling age".
The development of e-bikes has helped the growth of seniors cycling, and cycle tourists above 50 are now more commonly seen on the EuroVelo routes. But for those who have difficulty cycling due to limited mobility, the "Cycling without age" project launched in Copenhagen can offer help. Now represented in over 50 countries, it enables senior citizens to regain a sense of freedom and creates relationships between generations through a trishaw ride that provides older people with a pilot. For example, 108-year-old Edith from Bournemouth can still enjoy the breeze through her hair, the passing landscapes, and the refreshing experience of a bike ride.
A slightly younger woman that has proven that cycling knows no age is ten-month-old Zoé. Together with her parents, Jeanne and Xavier, she went on a three-month-long adventure in her trailer across the whole France, 'riding parts of EuroVelo 1 - Atlantic Coast Route (La Vélodyssée) and EuroVelo 8 - Mediterranean Route (La Méditerranée à vélo). Starting in Roscoff, they arrived in Strasbourg after about 5,000 km of cycling, exhausted but full of pride and memories. Little Zoé might probably not be able to remember, but she has for sure started her life with an incredible experience. Find out more at La Mini Passagère.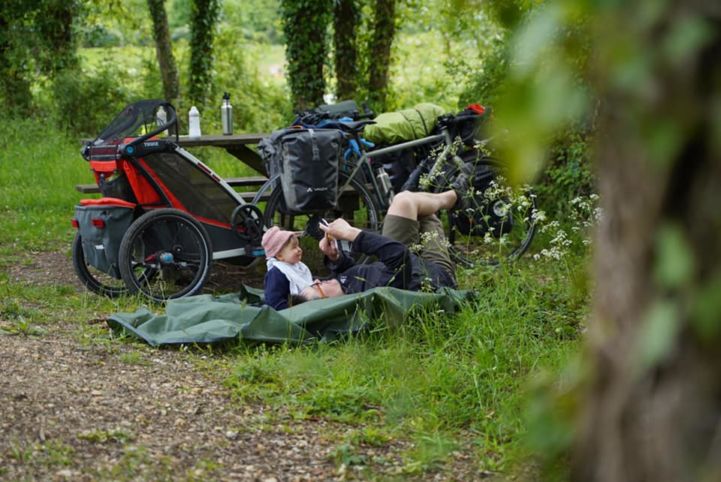 Cycling for all abilities
The following are just some of the many inspiring stories of cyclists that, despite facing obstacles and difficulties, did not give up on their passion and went on journeys that inspired others. Several initiatives have set themselves this very goal to break down barriers and prejudices to provide the right support for anyone to cycle and enjoy the physical, emotional, practical, and social benefits of cycling.
For Oli, 2013 delivered a devastating blow in the form of a shocking cancer diagnosis. Despite initial efforts, Oli did not give up and used cycling as an encouragement: "For me, my bike is more than just a means of getting from A to B. It's a way of life. Cycling gives me stability and improves my quality of life." Soon he started his project "Oli radelt!", which he calls a combination of self-help, passion and social commitment. To date he has been on numerous cycling trips to raise funds for people with cancer and serious illnesses, often along EuroVelo 15 – Rhine Cycle Route.
A similar story is that of Christian. A long-time passionate cyclist, his life also changed abruptly when he suffered a stroke in 2015. Step by step, he had to learn many things all over again, but he never gave up his dream of being able to ride a bike again one day. His dream came true with a custom bike adapted to his disability. After a test ride on EuroVelo 15, he is currently cycling along EuroVelo 3 – Pilgrims Route from Norway to Spain. In completing his trip he carries out his project "Ride for stroke" to support stroke prevention and deliver an optimistic message to people recovering from a brain injury.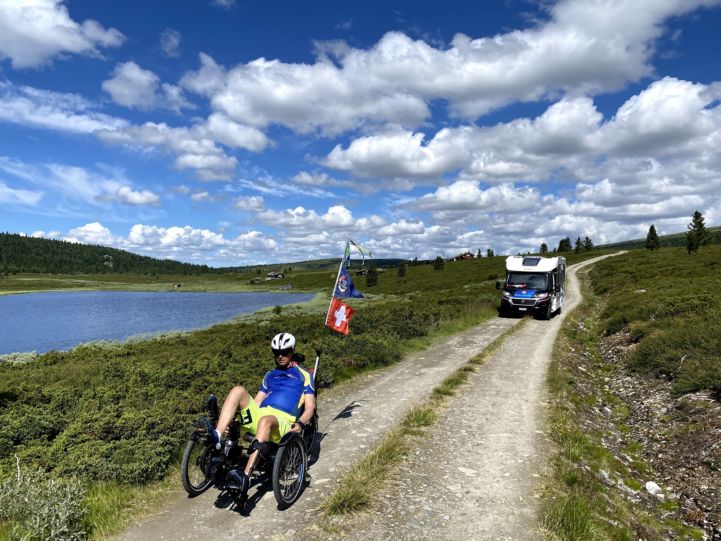 Mathys and Clémence set off on a tandem for a one-month trip of 1,500 km along EuroVelo 4 – Central Europe Route in France (La Vélomaritime). That in itself is not so unusual, but Mathys has been blind since birth. One might think that such a visual impairment would make a cycle trip impossible but not according to the association "Bienvoyants ensemble" that brings together visually impaired people to guide them in sports, cultural activities or simply to go shopping in town. The same applied to Mathys and Clémence - they met through the platform and soon arranged the cycle trip along the French coast.
There are many more initiatives designed to get people with disabilities cycling. In Veľký Šariš in Slovakia, the recently launched ParaBikeSharing now gives provides an opportunity for people with disabilities to reserve a special tricycle free of charge to cycle around the region and along EuroVelo 11 – East Europe Route. The Wheels for wellbeing association in the United Kingdom has long been committed to bringing cycling to people with disabilities. Whilst the BICIMUGI project, co-financed by the Interreg POCTEFA Programme between Pyrénées-Atlantiques and Navarra (partly on EuroVelo 3 – Pilgrims Route), also aims to assist people with reduced mobility.
Cycling for all genders
Long-distance female solo trips are often perceived as potentially dangerous. However, a growing number of women are venturing out, while others have found their way into cycling with the support of others.
Sylvie of RadioCamino has long been a solo cyclist and is especially interested in pilgrim routes, such as EuroVelo 3 – Pilgrims Route and EuroVelo 5 – Via Romea (Francigena). Her first attempt at completing a pilgrimage was also an attempt to overcome the loss of her father and celebrate her mother's recovery from cancer. After countless kilometres on her feet, she decided to explore pilgrimage routes from the saddle of a bike and since then she plans long cycling trips for a few months every year.
In contrast Catherine, not being as experienced in cycling and tent pitching, followed her inner voice and went a Solo Female trip along EuroVelo 8 – Mediterranean Route. Her advice: "sometimes, despite all the worries and fears, you just need to do it". Also Lauren, inspired by a movie of a young man's cycling trip around the world, didn't want her doubts to hold her back anymore and decided to traverse Europe on EuroVelo 6- Atlantic-Black Sea. The trip turned out to be a fascinating and enriching experience during which the EuroVelo network gave her a safe framework that was easy to follow.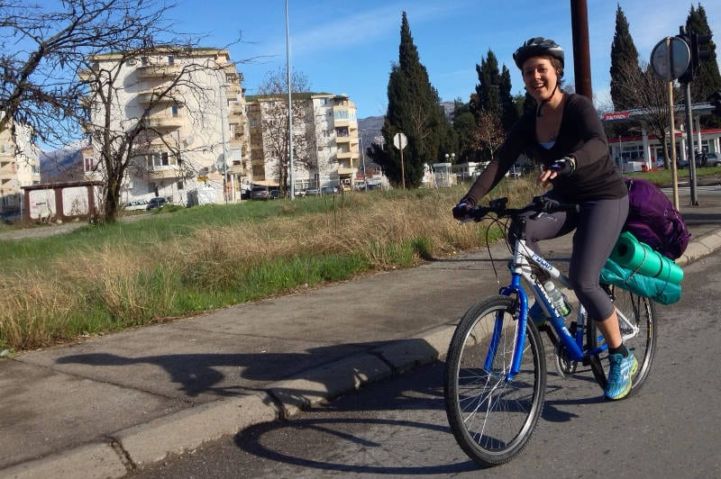 For those women who do not dare to get on a bike alone or simply prefer to cycle in a group, various initiatives have been started. Many women cycling clubs such as this one in Nantes are being established because "as long as women don't see other women on the bike, they won't consider that it is a sport that they can practice." Whereas the Turkish Women's Cycling Initiative "Bisikletli Kadın İnisiyatifi" has set itself the aim of encouraging women in Turkey to cycle more through cycling training sessions, activities and meetings.
The EuroVelo network truly welcomes everyone. You just need to find the right section for you!
Cover picture: Clémence and Mathys cycling along EuroVelo 4 in France © 2021 France TV
Author: Antonia Tornow